Lean-Up Meal Plan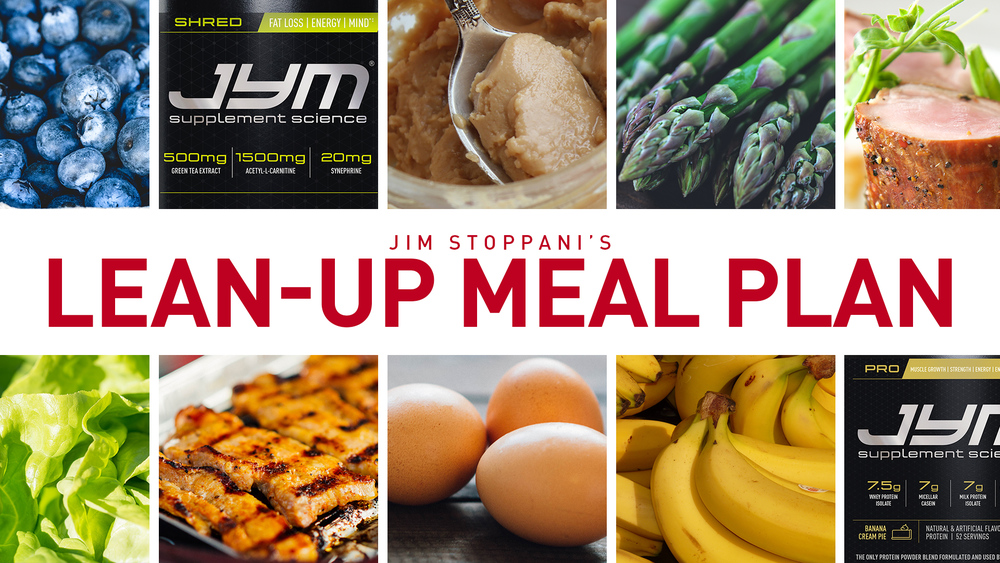 Looking for some meals to start dropping body fat? Below is a seven-day meal plan based on a training schedule of five workouts per week and two rest days. I put the rest days on Wednesday and Sunday, but feel free to incorporate those on other days if your schedule is different.
The goal here is to encourage your body to tap into fat stores and burn that fat away. To do that, eat no more that 13 calories per pound of bodyweight per day (2,340 calories for a 180-pound person). Again, since the goal is to lose fat and keep muscle, protein intake must be maintained – keep it above 1 gram per pound of bodyweight daily (over 180 grams per day for the 180-pounder).
Carbohydrates are dropped in these meals to encourage your body to use stored bodyfat as fuel. That said, to avoid being entirely drained, I still recommend eating 0.5-1 gram of carbs per pound per day (90-180 grams).
Healthy fats remain important, as they encourage fat-burning and maintain testosterone levels, so eat about 0.5 grams per pound of bodyweight per day of fat (90 grams or so for a 180-pound person).
If you're currently doing an intermittent fasting regimen, you can still follow this meal plan by simply consuming all of these meals within your 8-hour feeding window (or however long your window is). You can even take Shred JYM, my fat-burning supplement, during fasting periods.
Monday - Workout Day
Wake Up Supplements (take immediately upon waking)
1 dose Shred JYM
(Product contains all of the following ingredients at specific doses)
200 mg Caffeine
500 mg Green Tea Extract (45% EGCG)
1.5 g Acetyl-L-Carnitine
20 mg Synephrine
50 mg Cayenne pepper extract
500 mg L-Tyrosine
Breakfast (30-60 min after wake-up supplements)
2 large whole eggs
3 large egg whites
1 cup oatmeal
1 scoop Pro JYM
4 capsules Omega JYM fish oil
Morning Snack
8 oz. reduced-fat (2%) Greek yogurt
1 scoop Pro JYM
Fat-Burning Supplements
1 dose Shred JYM
Lunch
1 can white tuna in water
1 tbsp light mayonnaise
1 large whole-wheat pita pocket
½ cup lettuce
Pre-Workout
1 medium banana
1 scoop Pro JYM
1 scoop Pre JYM
(Pre JYM contains all of the following ingredients at specific doses)
6 grams BCAAs (at a 2:1:1 ratio of leucine:isoleucine:valine)
2 grams creatine HCL
2 grams beta-alanine
1.5 grams betaine
1 gram Taurine
600 mg NAC (N-Acetyl L-Cysteine)
150 mg Alpha-Glyceryl Phosphoryl Choline (Alpha GPC)
6 grams Citrulline malate
500 mg beet extract
1.5g L-Tyrosine
300 mg Caffeine
50 mcg Huperzine A
5 mg Bioperine (for enhanced absorption of active ingredients)
Post-Workout
2 scoops Pro JYM
1 scoop Post JYM Fast Carbs/Dextrose, 14 Small Wonka Pixy Stix, 1 Giant Pixy Stix or 20 oz. sports drink (ie, Gatorade)
1 scoop Post JYM Active Matrix
(Post JYM Active Matrix contains all of the below recommended ingredients at the specific doses)
30 grams dextrose
6 grams BCAAs (at a 3:1:1 ratio of leucine:isoleucine:valine)
3 grams glutamine
2 grams creatine HCL
2 grams beta-alanine
2 grams L-carnitine L-tartrate
1.5 grams betaine
1 gram taurine
5 mg BioPerine (to enhance absorption of the active ingredients)
Dinner
9 oz. tilapia
20 asparagus spears
2 cups green salad
1 tbsp oil/vinegar dressing
1 dose Vita JYM multivitamin
Nighttime Supplements (Take 1 hour before bedtime snack)
1 dose ZMA JYM (females take 2/3 dose)
Bedtime Snack
1 cup low-fat (1%) cottage cheese
2 tbsp salsa
Daily Totals:
2,259 calories
261 grams protein
174 grams carbs
43 grams fat
Tuesday - Workout Day
Wake Up Supplements (take immediately upon waking)
1 dose Shred JYM
Breakfast (30-60 min after wake-up supplements)
2 large whole eggs
4 large egg whites
1 whole-wheat English muffin
1 tbsp peanut butter
4 capsules Omega JYM fish oil
Midmorning Snack
2 scoops Pro JYM
1 cup oatmeal
Fat-Burning Supplements
1 dose Shred JYM
Lunch
6 oz. canned chicken breast (such as Swanson)
1 tbsp light mayonnaise
2 cups green salad
½ tomato
1 tbsp oil/vinegar dressing
Pre-Workout
1 cup pineapple
1 scoop Pro JYM
1 scoop Pre JYM
Post-Workout
2 scoops Pro JYM
1 scoop Post JYM Active Matrix
2 slices white bread & 1 tbsp jelly or 1 scoop Post JYM Fast Carbs/Dextrose
Dinner
6 oz. pork tenderloin
½ cup brown rice
1 cup cauliflower
1 dose Vita JYM multivitamin
Nighttime Supplements (Take 1 hour before bedtime snack)
1 dose ZMA JYM (females take 2/3 dose)
Bedtime Snack
1 scoop Pro JYM
1 tbsp flaxseed oil
Daily Totals:
2,340 calories
253 grams protein
171 grams carbs
74 grams fat
Wednesday - Rest Day
Wake Up Supplements (take immediately upon waking)
1 dose Shred JYM
Breakfast (30-60 min after wake-up supplements)
3 large whole eggs
3 large egg whites
3 slices extra-lean turkey bacon
4 capsules Omega JYM fish oil
Midmorning Snack
½ cup Grape-Nuts cereal
8 oz. low-fat (1%) milk
2 scoops Pro JYM
Fat-Burning Supplements
1 dose Shred JYM
Midafternoon Snack
4 oz. deli turkey
2 sticks light mozzarella string cheese
Dinner
8 oz. top sirloin
1 cup green beans
1 cup broccoli
1 dose Vita JYM multivitamin
Nighttime Supplements (Take 1 hour before bedtime snack)
1 dose ZMA JYM (females take 2/3 dose)
Bedtime Snack
2 scoops Pro JYM
2 tbsp peanut butter
Daily Totals:
2,266 calories
275 grams protein
117 grams carbs
77 grams fat
Thursday - Workout Day
Wake Up Supplements (take immediately upon waking)
1 dose Shred JYM
Breakfast (30-60 min after wake-up supplements)
2 large whole eggs
3 large egg whites
1 whole-grain waffle (such as Vans)
½ cup strawberries
4 capsules Omega JYM fish oil
Midmorning Snack
6 medium celery stalks
1 tbsp peanut butter
1 scoop Pro JYM
Fat-Burning Supplements
1 dose Shred JYM
Lunch
6 oz. deli turkey
1 slice low-fat (2%) American cheese
1 tbsp light mayonnaise
1 large whole-wheat pita pocket
Pre-Workout
1 cup blueberries
1 scoop Pro JYM
1 scoop Pre JYM
Post-Workout
2 scoops Pro JYM
1 scoop Post JYM Active Matrix
1 large slice angel food cake (1/6 of cake) or 1 scoop Post JYM Fast Carbs/Dextrose
Dinner
Taco Salad:
8 oz. ground beef (95% lean)
½ cup black beans
¼ cup fat-free cheddar cheese
2 cups green salad
1 tbsp low-fat ranch dressing
1 dose Vita JYM multivitamin
Nighttime Supplements (Take 1 hour before bedtime snack)
1 dose ZMA JYM (females take 2/3 dose)
Bedtime Snack
8 oz. low-fat (1%) cottage cheese
2 tbsp roasted flaxseeds
Daily Totals:
2,347 calories
265 grams protein
176 grams carbs
64 grams fat
Friday - Workout Day
Wake Up Supplements (take immediately upon waking)
1 dose Shred JYM
Breakfast (30-60 min after wake-up supplements)
Omelet:
2 large whole eggs
4 large egg whites
¼ cup fat-free cheddar cheese
1 slice whole-wheat toast
4 capsules Omega JYM fish oil
Midmorning Snack
½ can white tuna in water
½ cup low-fat (1%) cottage cheese
1 tbsp peanut butter
Fat-Burning Supplements
1 dose Shred JYM
Lunch
Ham Rolls:
10 slices Healthy Choice low-fat deli ham
¼ cup light cream cheese (such as Philadelphia)
1 medium cucumber, sliced lengthwise
Pre-Workout
1 cup oatmeal
1 scoop Pro JYM
1 scoop Pre JYM
Post-Workout
2 scoops Pro JYM
1 scoop Post JYM Active Matrix
22 Gummi Bears (such as Haribo) or or 1 scoop Post JYM Fast Carbs/Dextrose
Dinner
9 oz. salmon
1 cup zucchini
2 cups green salad
1 tbsp oil/vinegar dressing
1 dose Vita JYM multivitamin
Nighttime Supplements (Take 1 hour before bedtime snack)
1 dose ZMA JYM (females take 2/3 dose)
Bedtime Snack
1 scoop Pro JYM
1 oz. mixed nuts
Daily Totals:
2,555 calories
292 grams protein
130 grams carbs
94 grams fat
Saturday - Workout Day
Wake Up Supplements (take immediately upon waking)
1 dose Shred JYM
Breakfast (30-60 min after wake-up supplements)
2 large whole eggs
4 large egg whites
1 cup oatmeal
4 capsules Omega JYM fish oil
Midmorning Snack
4 oz. deli turkey
6 whole-wheat crackers
1 cup tomato soup
1 oz. walnuts
Fat-Burning Supplements
1 dose Shred JYM
Lunch
4 oz. deli roast beef
½ avocado
2 cups green salad
1 tbsp oil/vinegar dressing
Pre-Workout
1 whole-wheat English muffin
1 scoop Pro JYM
1 scoop Pre JYM
Post-Workout
2 scoops Pro JYM
1 scoop Post JYM Active Matrix
1 slice white bread & 1 tbsp jelly or 1 scoop Post JYM Fast Carbs/Dextrose
Dinner
8 oz. chicken breast
½ cup quinoa
1 cup Brussels sprouts
1 dose Vita JYM multivitamin
Nighttime Supplements (Take 1 hour before bedtime snack)
1 dose ZMA JYM (females take 2/3 dose)
Bedtime Snack
1 cup low-fat (1%) cottage cheese
2 tbsp salsa
Daily Totals:
2,406 calories
249 grams protein
179 grams carbs
76 grams fat
Sunday - Rest Day
Wake Up Supplements (take immediately upon waking)
1 dose Shred JYM
Breakfast (30-60 min after wake-up supplements)
3 large whole eggs
3 large egg whites
1 cup oatmeal
4 capsules Omega JYM fish oil
Midmorning Snack
1 whole-wheat English muffin
1 tbsp peanut butter
1 scoop Pro JYM
Fat-Burning Supplements
1 dose Shred JYM
Lunch
6 oz. deli turkey
2 cups green salad
1 tbsp oil/vinegar dressing
1 scoop Pro JYM
Midafternoon Snack
½ can white tuna in water
6 whole-wheat crackers
1 cup tomato soup
Dinner
8 oz. ground beef (95% lean)
1 whole-wheat hamburger bun
½ cup lettuce
½ tomato
1 cup green beans
1 dose Vita JYM multivitamin
Nighttime Supplements (Take 1 hour before bedtime snack)
1 dose ZMA JYM (females take 2/3 dose)
Bedtime Snack
1 scoop Pro JYM
1 tbsp flaxseed oil
Daily Totals:
2,197 calories
229 grams protein
145 grams carbs
74 grams fat
See All Featured Meal Plans