Ami Williams
This mother of four is setting a positive example for her kids by living a healthy, fit lifestyle.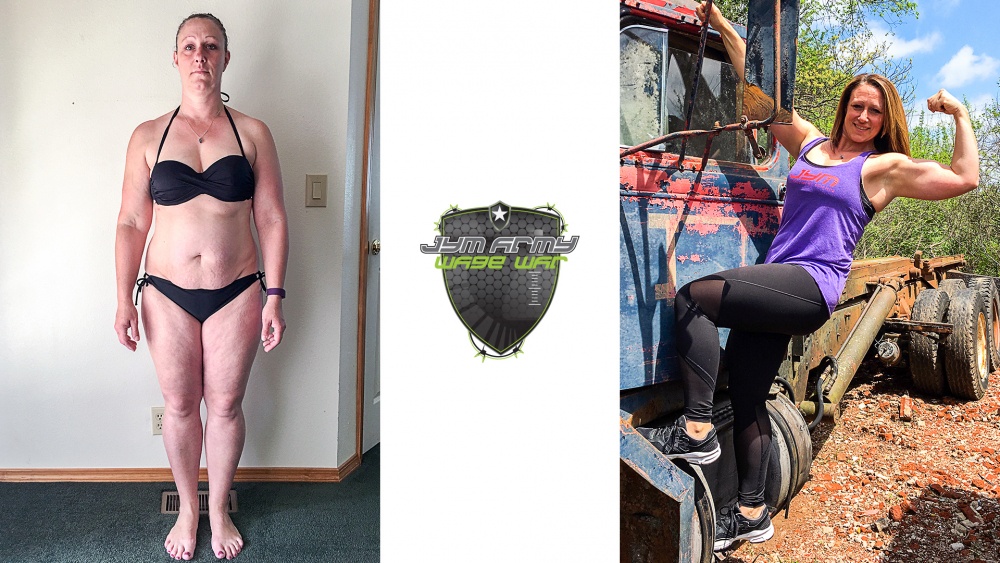 Written by Ami Williams
I'm 41, a mother of four, and, along with my husband, own and run our own Christmas manufacturing business. I didn't start my fitness journey until February of 2016, after recovering from a major illness — I had been basically bedridden from the previous year.
In February of 2015, I was admitted to the hospital because I thought I was having a heart attack. After an angiogram and a dozen tests and MRIs, the doctors determined I had a paraganglioma, or an extra-adrenal pheochromocytoma. This is a tumor that secretes high amounts of norepinephrine and epinephrine. The cure for this was surgery, but only with prior treatment of alpha and beta blockers to control my heart rate and blood pressure.
I spent a week in the hospital while the doctors tried to diagnose me and stabilize my heart rate and blood pressure. I gained 10 pounds that week. The type of medication I was on slowed my heart rate and lowered my blood pressure, so I basically just ate and slept. I wasn't careful with what I ate. Because of my lack of energy, we ate out a lot. So, cheeseburgers, milkshakes, and Chinese food were regular meals.
Prior to my illness, I was in what I thought was pretty good health. I had quit smoking in August of 2014 (I smoked on and off since I was 15) and cleaned up my diet. We started cooking at home more, ate less processed foods, and cut out soda (Diet Coke was a staple for me).
I weighed 168 pounds and was a fairly active person. I didn't lift weights, but I was always busy with work, which most times was fairly physical, and was usually doing some sort of yard work, gardening, canoeing, or playing with the kids. But by the time I had recovered from surgery in September of 2015, I weighed 196 pounds.
I figured since I was feeling better, I would start dropping the weight and get back down to the size I was. I have always gone from being big to skinny with little effort either way. This time was harder.
Being so inactive for so long took a serious toll on my body. I lost a lot of muscle and had no stamina. I couldn't even make it to the top of my stairs without being completely out of breath. It was time to do something about it. I hated the way I felt, hated the way I looked, and hated how my clothes fit.
My first instinct was to run. I had to do cardio to lose the weight, right? And running is cardio. So, I bought a treadmill. I am not a runner; I don't like to run. But I did my best. I downloaded an interval app to my phone and did intervals of running and walking. I continued to do this for about a month. I lost a few pounds, but I still really hated running.
My husband suggested that we start lifting. Since I was "working out," he also suggested that I needed to start supplementing, at least with a fish oil and protein. He had done some research and ran across Jim Stoppani's website, along with a few others, and showed them to me. I saw Alisa's transformation and was astounded by her results. I had a few questions about Pre JYM, Post JYM, and Pro JYM in the JYM supplement line, so my husband messaged Jim and in minutes, Jim had replied with an answer.
I was blown away that the owner and face of the company would take the time to answer customer questions. This is usually handled by a mindless customer service department reading scripts. This alone solidified it for me and was the reason I chose to use the JYM supplement line.
I then became a member of his website and the world of fitness was opened up to me. The very first program I tried was Shortcut to Shred. I did week one over and over again until I was no longer sore. When I first started, I could only bench 50 pounds. To date, my personal best at bench pressing is 120 pounds. My max for squats is 285 pounds, up from 80 pounds when I first started lifting a year ago. I have lost 18 pounds in the last year, down from 196 pounds to 178 pounds currently, and I've lost 10 inches total.
I have done Shortcut to Shred, Super Shredded 8, Super-Man, Six Weeks to Sick Arms, Daily Grind, and I am currently in my second round of SS8. I have participated in three of the four challenges that Jim has done since I became a member in March 2016. I even got runner-up in the 2017 New Year's Challenge that featured the Daily Grind workout! The challenges are a great motivator for me and hold me accountable to my workouts and diet.
Through Jim's Dieting 101, I have learned how proper nutrition and counting macros helps your progress. I also recently started Jim's Intermittent Fasting Carb Cycling plan to help further my fat loss. I take the full JYM supplement line: Pre JYM, Pro JYM, Post JYM, Vita JYM, Shred JYM, ZMA JYM and Omega JYM, along with the recommended vitamin D3 and CLA.
My biggest motivation in my fitness journey has been my desire to be a better "me" for my family. I want my children to see me as a strong, healthy mom. My girls are young and are watching my every move. I want them to learn the importance of proper nutrition and exercise to be strong and lead healthy lifestyles.
My advice to beginners is to become a member of JimStoppani.com and find a program that fits their needs, whether it be fat loss, building muscle, or general fitness. Use the tools provided on the website and educate yourself. Even if you are not a member of a gym, there are body weight and band workouts that you can do.
There are also useful videos that provide information on how to modify the workouts to do them on the road or with little equipment. Most importantly, be consistent! Hold yourself accountable to your diet and workouts.
Track your macros and take lots of progress pictures — they help! Especially when you are feeling like you aren't progressing. Remember, your progress is your own. Try not to compare yourself with the progress of others. Lastly, become a member of the JYM Army Facebook page and get support and motivation from thousands of members at different fitness levels, from beginner to pro.
I plan to continue my fitness journey by implementing Jim's workouts and supplements. I will also continue educating myself with the thousands of articles and videos available on the website. My goal is to always be a better version of myself. I am excited to see where I will be in another year!
Related Articles