Kimberly McAuliffe
She's staying strong and fit while serving her country through the United States Air Force.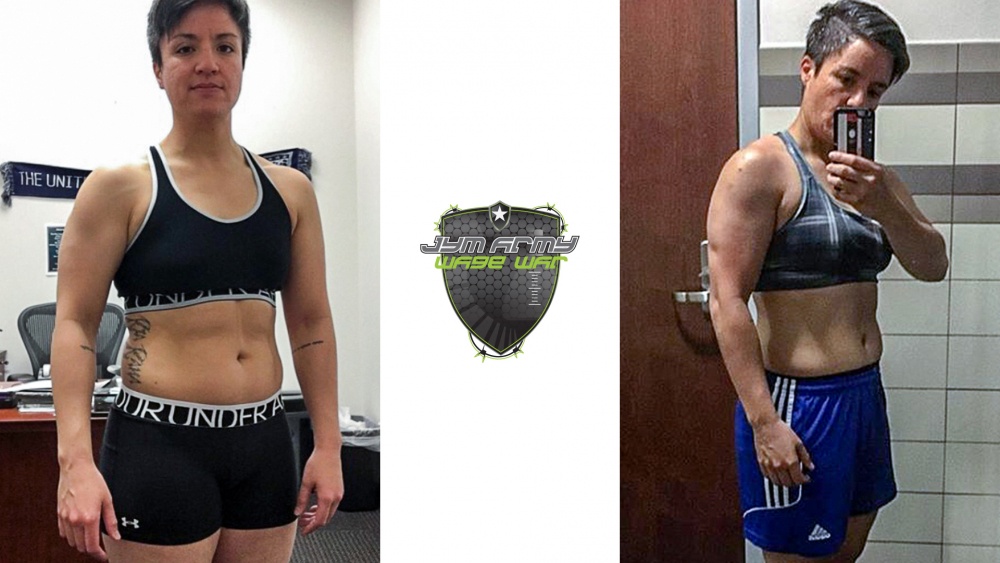 Written by Kimberly McAuliffe
Like so many other people on this journey, my wake-up call came when I was in my early 30s and found myself out of shape, out of energy, and taking a hard look at my lifestyle and my physique. I was working full-time in the Air Force, going to school full-time for my first Master's degree, and basically had no life outside of those two efforts.
About three years ago, I started playing rugby as a way to get back into fitness as well as socialize a bit! Rugby opened up a whole new facet of fitness for me. At the time, the team I played for had a lot of U.S. national team players on the roster. They inspired me to really take my nutrition and fitness seriously, so I began doing my research — which led me straight to Jim's website.
I was already familiar with his supplements and had been a long-time advocate of Pro JYM. I set out on a bit of a fitness adventure. My goals were fairly standard: lose body fat and get stronger.
Change takes time, of course. I'm not a very patient person, but there's something about the way that Jim educates people on fitness and nutrition that allowed me to relax and embrace the process.
Changes did come! Within about twelve months, I'd made some significant progress: down 10 pounds from 158 to 148 pounds, and my body-fat percentage decreased from 24 percent to about 18 percent. I'm leaner, stronger, and have more endurance than I did a year ago.
I love the variety in Jim's programs and training avenues, too. I'm a big fan of Shortcut to Shred; I tend to use it as my go-to when I need to get ready for my Air Force PT test and for rugby season prep. Currently, I'm following his Train With Jim series. Jim's programs help me with speed, endurance, overall strength. There's also a mental-strength aspect to it that was unanticipated but really welcome!
I also needed a lot of guidance when it came to food. Like Jim has said, most people just want to be told what to do, and that's me for sure. For years, I followed the traditional bodybuilding principle of eating every few hours. Because of my work obligations, travel schedule, and evenings at rugby practice, it took a lot of commitment that I didn't always have. I began to see the weight pile on because my discipline wasn't always there.
Only recently, I began to read Jim's articles on IFCC. I watch his videos while I work out in the morning, and I spent a few days devouring everything he posted about intermittent fasting and carb cycling. After getting some great feedback from the JYM Army, I took the plunge myself. I'm now an IFCC convert and proud of it!
That's only part of the battle, though. Supplements help fill in some of the voids that I may have in my daily nutrition, and in my opinion, it's money well-spent on JYM products.
No matter what, I always make sure I have Pre JYM, Pro JYM, Vita JYM, and Omega JYM stocked. My JYM supplements have been all over the world with me, both in a military capacity and for personal travel. They even have their own half of my suitcase!
There are a couple of reasons why I feel as passionate as I do about fitness. I am closing in on 40 next year and my goal is to be in the best shape of my life when I celebrate that milestone. I also believe that as a proud member of the U.S. military, the public is putting their trust in me to make sound decisions, be vigilant and alert to threats, and uphold our members to protect the nation and be alongside them as they do. To do that, I need to be fit, rested, properly nourished and strong physically and mentally. I can't hold my troops to a standard that I'm not also willing to hold myself to. They motivate me daily.
Going on this journey meant that I needed to make some lifestyle changes, too. My relationship with food needed to change, which meant that I needed to be honest with myself about what I was eating, how much, and if I really needed it. Thankfully with IFCC, there's a bit of wiggle room and I can eat some of the things I truly love — with measured control.
I appreciate how Jim's programs cover every age, goal, gender, and ability. You don't always see that in the fitness industry.
Something I've always struggled with is that I don't fit the female type that I see on the covers of fitness magazines. Many times, it made me feel like I'd never measure up to a standard of beauty that even the fitness industry has for women. I don't have long hair, I don't wear makeup, and I don't have a skinny body with a big bra size. The key to getting over that? Not giving a sh*t about it anymore!
If I'm strong, if I can run fast, climb Colorado's peaks, and play rugby with women half my age — that's what matters more to me. I don't care about external standards anymore.
This journey hasn't been without obstacles, that's for sure! My relationship with food has always been THE hardest thing for me to navigate. I love food: shopping for it, cooking it, and definitely eating it — the sweeter the better.
A very humbling moment for me came when I was reading an article about my favorite rugby player (a 6'2" male) who ate less than I did! I had to wrap my head around the fact that I was out-eating a professional athlete who was twice my size and almost twice my weight. Rugby is a physical sport, but I'm a 5'2" female and have nowhere near the same demand for calories as he does. I started paring down my carbs, which wasn't as difficult as I thought it would be, and then began to incorporate IFCC into my lifestyle. IFCC is like nutrition sorcery!
The feedback that I'm getting from my family, teammates, and friends has been proof positive that my effort in the gym and kitchen have been paying off! The thing that those closest to me remark about most is my athletic shape. I've been able to tighten up areas that are problems for most women (my waist, my hips and thighs, and my belly) while putting on lean muscle. They also compliment me on my dedication to my workouts, which I almost never miss.
For everyone out there who is just starting, or maybe have already started but feel stuck, I know how that feels and offer this advice: When you're at the gym, don't worry about the guy or gal next to you. Focus on you, your goals, and don't let self-doubt rent space in your head. And always keep your playlist fresh!
As for me and my future plans…I like that one of Jim's core philosophies is that everything works, but nothing works forever. Because of Jim's guidance, I'm not afraid to switch things up when I hit a plateau or to try something new. It's yielded great results, and I'm going to be a student of Dr. Stoppani's for years to come.
I hope I can shake his hand one day, because he's helped me change my life. I owe a lot to him and the members of the JYM Army who inspire me daily but may not know it.
Related Articles