Peter Kovach
Fighting depression and anxiety with a dedicated fitness program has turned this young man's life around.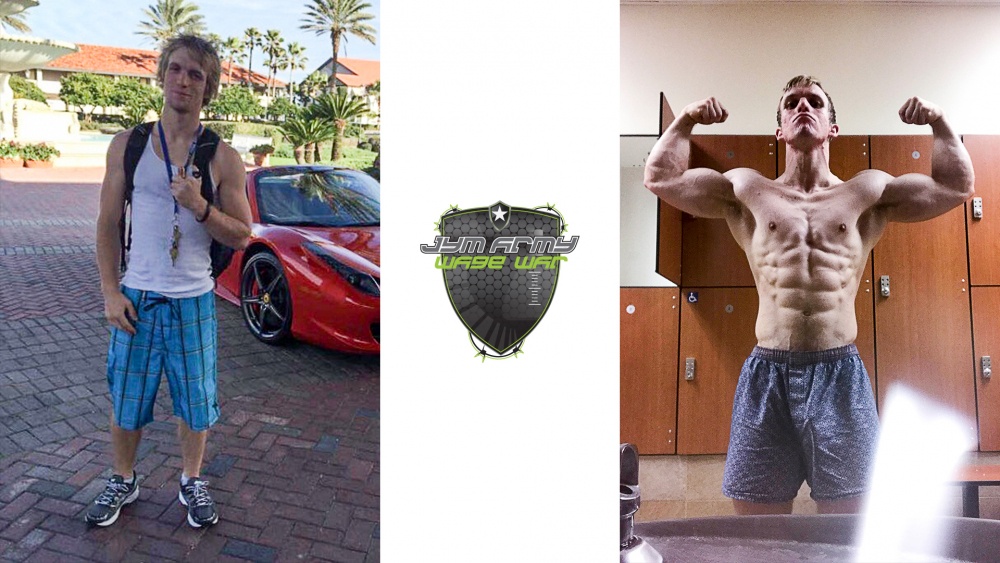 Written by Peter Kovach
I was always active growing up. I played virtually every sport, I was very involved and active in my education and social life, and I was never short on energy or stamina. I don't think I ever lost that drive, but at some point in my life, my focus shifted to things that weren't so healthy.
At the age of 15, I was diagnosed with major depression disorder and anxiety. This was a huge turning point in my life, and I would spend the next five years spiraling downward. I made a lot of mistakes in my life; I could write a book explaining every step of this journey, but that's not the point of this story. In short, I experienced a lot of heartbreak, drugs and alcohol, and suicidal ideation. All of this led to me being institutionalized in hospitals and jails, and even homeless on the streets.
At my lowest point, I was an extremely unhealthy and malnourished 135 pounds at 5'10. Fitness started as a way for me to escape reality. Before I started lifting weights, I would just do push-ups until I couldn't feel my arms, or run drills until I was sweating through all my clothes.
For a while, I didn't have the education I needed to eat correctly, supplement correctly, or design a program. I began by just getting active every day, and always testing my limits. I found and started following Jim Stoppani in early 2016 at age 22, after about six months of training. I had gained a good amount of weight, sitting at about 150 pounds, but I wanted to go even further.
It all started with Pre JYM — WOW! I can still remember the first time I drank it. I had tried other pre-workouts before, but nothing even compared to the mighty Pre JYM. I had intensely focused energy, and I absolutely smashed my workouts. After looking a little further, I found that Post JYM and Pro JYM were just as important as Pre JYM, and that there was really no competition for better workout supplements on the market.
Now, Jim's workout programs. I didn't even consider doing them for the longest time because, in my mind, I was trying to gain weight and there was too much cardio in them for me to be able to build muscle. Oh, how WRONG I was about that!
My first of Jim's program was the Superman Challenge. I was very surprised with the lean muscle gains I made. Since then, I have completed Daily Grind, Down and Up Mass, and most recently, Super Shredded 8.
Every one of these programs pushed me to my physical breaking point, and the results have been INSANE! By following Jim's Muscle-Building Nutrition Rules, I have actually put on quite a bit of muscle mass since I started following these workout plans. Today, I am 22 years old and weigh 174 pounds with very low body fat.
Reaching my current level of fitness was not an easy feat. I didn't think I would get here so fast, but consistency and fierce determination have gotten me a long way. I have three primary motivators:
Looking back at how broken and frail I was in the past, and realizing I never want to be that person again.
Seeing myself in the mirror today, after all the things I've accomplished and how much the work has paid off, both inside and outside of fitness.
Thinking about how much further I will go in the future if I continue to challenge myself daily.
One thing I know for sure: Failure is inevitable. I don't define life by successes and failures, but rather how I react to those outcomes. Either I get complacent or I get better. The choice is ultimately up to me.
My family and friends now look up to me as someone who has completely turned his life around. In addition, the JYM Army has become a second family to me. The JYM Army has been there for me whenever I need anything, fitness related or not. I couldn't be more grateful to be a part of this amazing group.
The most important key to my success was finding my "WHY." This has been a pivotal point in my training. I wouldn't have made it through the Summer Shred Challenge without some sort of intrinsic motivation. It's not about the numbers or the man I see in the mirror, it's about the satisfaction that comes from knowing I'm giving my all —everything I have — to gain the strength of body and mind. If I ever feel unmotivated or I start slipping into a dark place, I need to reevaluate my "WHY."
To anyone looking for advice on achieving your health and fitness goals, I would say to never give up. In the past two years, I have stumbled and fallen quite a bit, but I never threw in the towel. I still deal with depression and anxiety today, but getting myself active is a large part of my daily therapy.
Any time I feel like I can't keep going, I do whatever is necessary for me to get myself back on track. Sometimes that means taking an extra rest day or two, and sometimes that means going extra hard in the gym. Just listen to your body, listen to Jim, listen to the JYM Army, and keep moving forward. That is what staying #JYMArmyStrong means to me!
Related Articles