Steven Weiger
This longtime gym rat made great fitness breakthroughs once he adopted the right training, nutrition, and supplementation systems.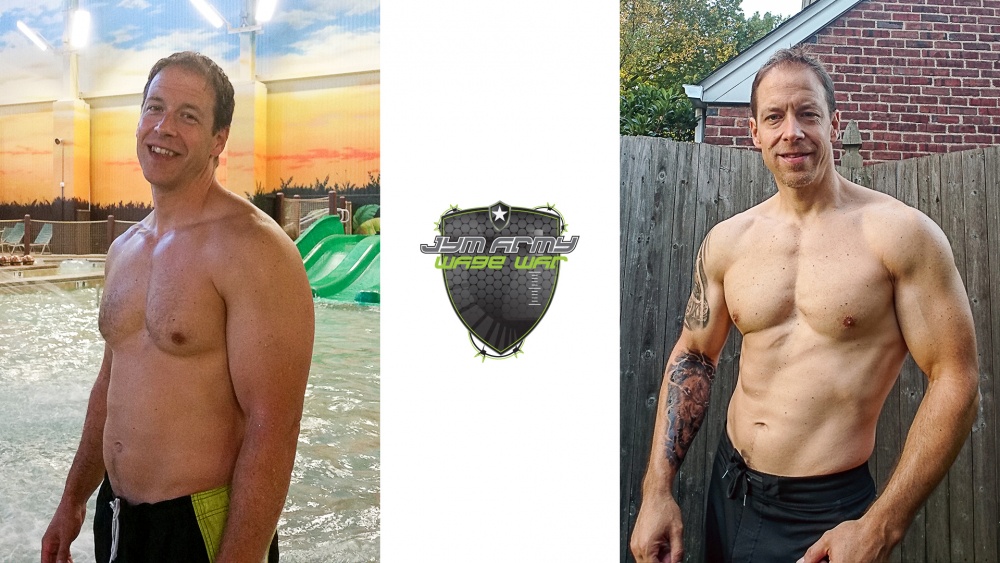 Written by Steven Weiger
I have always been active, but I truly started on my fitness journey when I was 15 years old. My parents bought me a weight set and bench so I could train in our basement. I eventually outgrew the weight set and joined a local hard-core iron gym where I trained among guys twice my size.
I consistently trained into my college years while I marveled at the bodybuilders in Flex and Muscle & Fitness magazines. I tried to eat like them and took supplements. I continued to educate myself about diet and training through books and magazines.
Since I was young, I was able to make reasonable gains in strength and muscle. I figured the supplements worked. I entered a few natural bodybuilding shows to test myself and did fairly well.
Fast-forward to my 30s and 40s: I continued to train, but it got harder to accrue consistent muscle and strength gains. In addition, my job required lots of travel, and having two children took up most of my time. I pretty much just worked out to stay in reasonably good shape.
I was not drastically overweight, but I never felt I reached fitness goals I set out to achieve. I still went to a gym and juggled various supplement and diet plans, but I was lacking the physical and mental focus I had in my early years. My training got stale and I didn't challenge myself enough.
One day in July of 2016, I was shopping online for a protein powder blend when I came across Pro JYM. I went to Jim Stoppani's website – JimStoppani.com – to research it and found a treasure trove of information.
This was what I was looking for — a comprehensive website with an app that provided all the information I needed. It was all at my fingertips and for a lot less than a personal trainer, who I always felt would never push me hard enough.
My lifestyle changed from a random training regimen and diet to a custom training and diet system where I held myself accountable. After signing up on Jim's website, I started with Dieting 101, which answered the questions I had about how much protein, fat, and carbs I needed.
The toughest obstacle I had to overcome was planning my daily meals. But as I went through the process, it became much easier. It forced me to look at what I was currently taking in, which was way too much, and develop a precise diet based on my goal.
It's at the point now where it's intuitive and I'm eating foods I never thought I could on a diet. I weigh and record my meals daily, but I also do minimal meal prep. This past year, I switched to the Intermittent Fasting Carb Cycling (IFCC) diet without the IF. It's flexible and my results have been even better.
In addition, I am currently using the entire JYM line (especially Alpha JYM) with the addition of CoQ10, vitamin D3, glucosamine and chondroitin, DHEA, and CLA. All the JYM supplements are top-notch in quality, taste, and truth on the label. Most others keep changing their formulas to be the next best thing, while JYM got it right the first time.
The training program I started with was Shortcut to Shred. I saw immediate results both physically and in my mental motivation. I never thought I could train with such volume, especially at my age, let alone get the results I saw. I couldn't wait to get to the gym each morning at 5 a.m.
I then did Down and Up Mass, Back and Fourth, Down and Up Mass again, Daily Grind during the 2017 New Year's Challenge, Strong in 8, Daily Grind again, Super Shredded 8, and then Power Pyramid and Giant Sets during the No Limits Challenge.
In the past, I used to do fasted and steady-state cardio, which just made me tired with little results. Now with cardioacceleration and HIIT daily, I am stronger, more vascular, and leaner than ever.
When I started, I weighed 195 pounds with about 14 percent body fat. Now I am 180 pounds with 7 percent body fat. All my power lifts – squat, bench, and especially deadlifts – increased over the past year. This was amazing since I lost weight during that period, too.
Of all the programs so far, Daily Grind has had the greatest impact; I saw increased muscle mass and less body fat. My strength increased, too. I was totally amazed when I won the New Year's Challenge.
All my dedication and consistency to this program paid off big time when I actually met Dr. Jim Stoppani and Mike McErlane. I was humbled by the experience and amazed at their strong dedication and knowledge. It was a life-changing experience for me.
The other keys to my success were the support from Jim Stoppani on Twitter and the JYM Army Facebook group. Any time I had a question or needed a boost, both were there for me.
My biggest motivation through this journey was (and is) my age. At 48, I want to be the best I can be for myself and my two daughters, who are 7 and 9 years old. I want to continue to be a big part of their active lives. I want to pass on my life and fitness values as well.
Most people, both in the gym and outside, can't believe I'm 48 years old. In the gym, they are amazed to see me battling away at a workout and soaked with sweat afterwards. I stay dedicated and consistent. This holds true even when I travel for my job.
Sometimes I get asked how I do it, and I'm always happy to offer advice and ask them if they know Dr. Jim Stoppani. I tell them how the JYM system changed my life and most are intrigued. I told them I trusted the process and my results speak for themselves.
Everything I thought I knew was completely up-ended after discovering Jim's proven methods, which are based on science and not "bro science." I have found solutions to my fitness challenges and now train smart. I have never felt better and I'm in the best shape in my life.
Going forward, I am excited each day to rise and tackle what comes at me, be it one of life's challenges or a killer workout designed by Jim. My fitness pathway is always evolving and I am completely motivated, thanks to Dr. Jim Stoppani, the JYM Army, and JYM Supplement Science.
I heard Jim say once, "Age is just a number, not a limitation." I totally believe that.
Related Articles