Will Kucharek
This JYM Army soldier is improving his health along with his physique with proper training, diet and supplementation.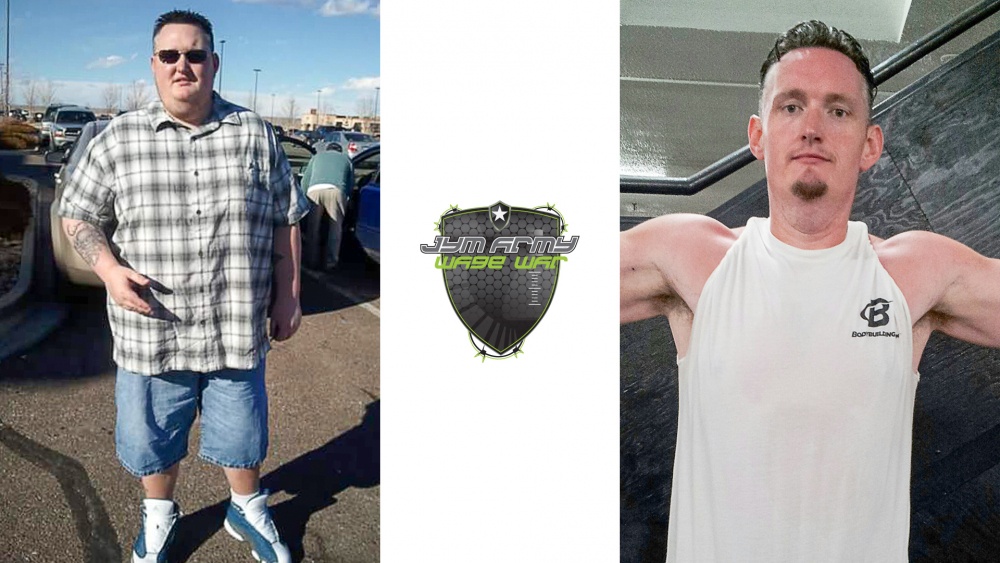 Two years ago, I weighed 360 pounds. I was also pre-diabetic, I had high blood pressure, an irregular heartbeat and couldn't walk up stairs without gasping for air. Then I got hit with some of the worst health complications of my life and was in the ER all the time. Within a year, doctors found a brain tumor, gastroparesis and enlarged organs, just to name a few health issues. I was eating fast food all the time and drinking five or six sodas a day. I suffered severe anxiety and depression and was in a very dark place.
It was at this point that something inside of me lit up like a fire. I refused to lay down and be a victim. I decided to turn my life around and I started with MY decisions and attitude. But while I battled my chronic illness, I was only consuming 100-200 calories a day, if I was lucky.
After a year, I became very weak after losing a ton of weight too fast and was down to 185 pounds. It was tough because I couldn't eat regular healthy food, so I was getting most of my nutrition through Cream of Wheat and meal-replacement drinks.
I still refused to let my illness keep me down, so I continued to go walking and added more calories to my diet. It was a slow battle, but I felt that fire burning stronger than ever inside of me and finally felt hope! This past year, I've been going to the gym to lift weights five or six days a week, training a different muscle group each day. At first, I was so weak that I struggled to lift 5-10-pound weights! Through trial and error, I realized I wasn't getting enough nutrition to fuel my body for my workouts.
Right about that time, I came across Jim Stoppani on Facebook and watched every video I could. I educated myself and applied what I learned to my training. Shortly after, the JYM Army group started up and I was proud to be one of the first to join and watch the JYM Army grow.
I started with Pre JYM and quickly ordered the rest of the JYM system. Pro JYM protein has been a staple in my diet to help with my nutrition struggle. I've added one new JYM supplement at a time and they've helped with my strength and recovery. The past six months have been amazing and I feel like a new person.
I'm at a healthy 195 pounds and continue to burn fat and gain muscle while tracking my macros very closely. More importantly, I feel great and my mindset is very positive. I'm so excited about my life and future. I will NEVER stop fighting and will continue to progress in my health and fitness journey!
Related Articles