Sara Mega
This former dancer is taking on all challenges and gaining strength and confidence in the process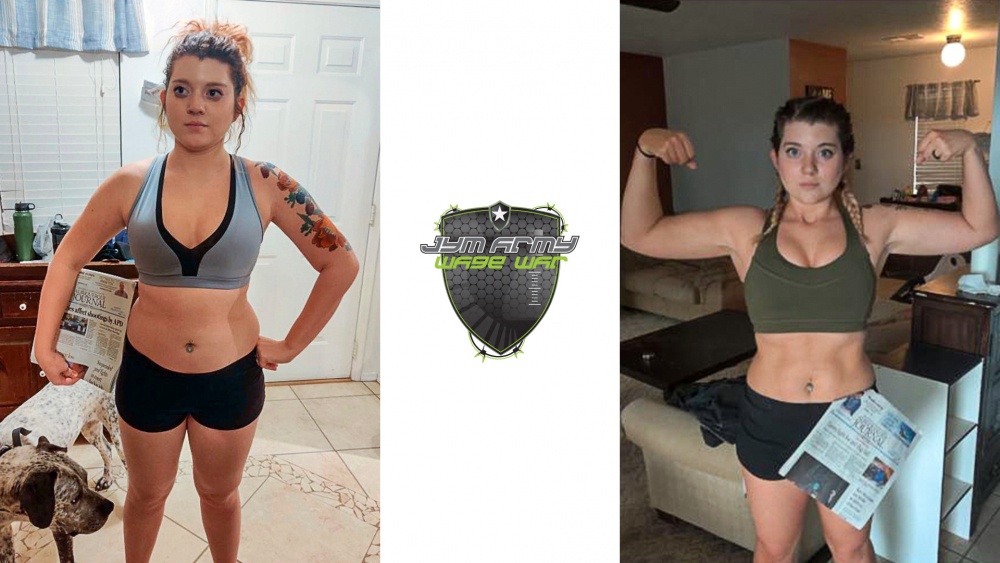 Written by Sara Mega
When I set out on my fitness journey, my goals were to lose fat and gain muscle. But I also wanted to become comfortable in my own skin again.
I danced for 12 years, almost 24 hours a week, then stopped and started working at a call center — a very sedentary job. I wanted activity back in my life.
Within 6 weeks, I lost around 8 pounds. Even though that may not seem like a large amount of weight to lose with the work that I put into this transformation, I know I lost a lot of fat and gained a decent amount of muscle. I could see my strength increasing with my lifting (I never really lifted before), going from a reverse bench using the 45-pound bar to being able to go to about 60 pounds, a feat that impressed my gym rat husband!
Training Programs + Proper Nutrition + Supplements = Success
I achieved these results by doing the Super-Man program during the New Year's Challenge, which I completed with my husband while integrating one to two Tabatas before or after my workout.
On days when I wasn't in the gym due not having my gym partner, I would go climbing at my local rock-climbing gym and do some Tabatas there as well. In my climbing, I noticed a dramatic change. My grip strength was better and I was using my arms and not just my legs anymore.
For those who indoor climb, before starting the challenge, I was completing routes with a level 8-9.5; a couple weeks in, I was able to complete 10-11s with ease.
When it came to my nutrition, I followed Dieting 101 six out of seven days a week, but already sticking to 20 grams of carbs or less per day, with a cheat meal until coming up on Week 4 of the Super-Man program when we were completing Peak Week.
I used Pre JYM usually about an hour before my workout (why couldn't we have Grape Candy then?!), Post JYM during my workout (Blue Artic Freeze, all the way), and Pro JYM after my workouts or whenever I needed to supplement with more protein (Tahitian Vanilla flavor — classic).
Sara's Biggest Motivators
During the transformation, my biggest motivation was my competitive nature. I really wanted to win this challenge; even though it may have been my first JYM Challenge ever, I'll get there next time.
Pretty close second to that was my husband. He was such a big motivator for me, always encouraging me to push a little harder. Seeing how proud he was of me truly made me want to push harder every day.
We had to make some lifestyle changes, though. Where we live there are a TON of wonderful local breweries. Craft beer is a bit of our vice and not a good idea when trying to keep below 20 grams of carbs a day!
We loved to go a couple times a week to a different brewery, but that cut down to maybe one time or none at all.
Another was getting into the habit of working out. I felt comfortable in the gym — again, ballerina over here — so getting used to coming home from work, getting into my gym clothes and going was something new.
Working Through Challenges
My biggest challenges, however, were anxiety and depression. I suffer from both, which can really demotivate a person and create an endless cycle of being tired and feeling like you just can't.
Having the occasional anxiety attack in the gym used to make me leave back in the day; this time, it motivated me to push through and kick some ass.
I noticed some positive feedback from friends, family, and co-workers but I think it was more about how I was carrying myself. I wore tighter clothes more comfortably and walked around with a different type of strength.
What I would say to others who are looking to achieve similar results is understanding that this is going to suck at times, it really is, but use that to ignite the fire in you.
Use that against the little voice in your head saying that you can't, and prove yourself wrong. We are our own worst enemies when we need to be our own biggest cheerleaders.
I'm so excited to continue on many more transformation journeys, using the challenges to fuel my competitive nature and a healthier lifestyle to drive my own success in and out of the gym.
Related Articles