I Want Real Change In The Supplement Industry
I Want Real Change In The Supplement Industry
I want real change, not change for profit!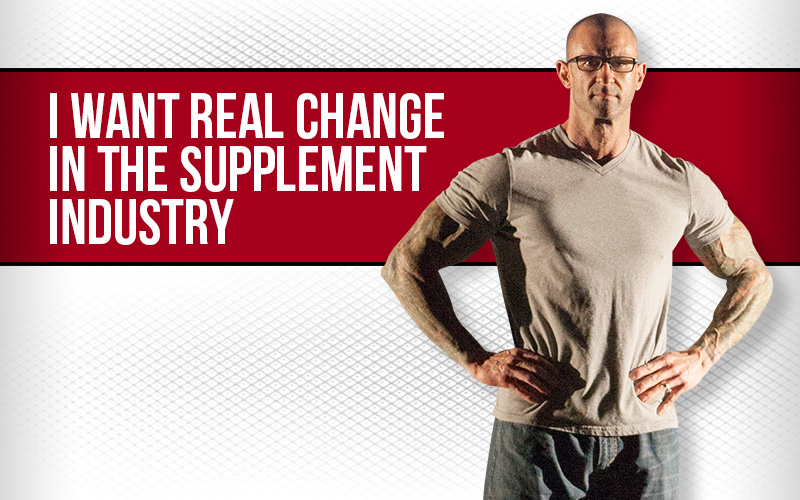 In just eight short months, JYM Supplement Science has risen to the top of the supplement industry and is competing with top brands who have long dominated every supplement category for years. Pre JYM is currently (as of May 7, 2014) the #9 best-selling supplement. And Post JYM is currently the 30th best-selling supplement. All of this happened with a $0.00 marketing budget. That is unheard of in today's supplement industry.
How is this possible?
It's because of you, the educated and savvy members of the JYM Army! It's because you have demanded better products, better service and more trust in not just the products that you consume, but the person who's responsible for formulating them for you. I've been communicating with you long before I ever had any inclination to start my own supplement line. At that time I just wanted to be an unbiased source of information for you when it came to training, nutrition, supplements and health. My goal was to simply focus on the training programs and content I was creating for my own website and other fitness platforms.
However, I listened to your feedback. I heard your frustration. I understood that you were seeing results from taking all that I recommended based on individual ingredients. Yet aside from mixing your own preworkout, postworkout and even protein from several different bottles, there was no easy solution or products that existed on shelves that would give you the same results. It was then that I worked on how to finally give you what you wanted and what you could finally trust in a supplement brand. The trust you have in me is what I hold onto each and every day and I make sure that I will never break it.
Now that other supplement companies have seen that you can succeed by doing the right thing, they're quick to try to spin their own propaganda in an attempt to do nothing more than hit their bottom line. That is not my goal with JYM Supplement Science. My bottom line is simply your results! This video will explain more in detail on how I want real change for the supplement industry! And thank you once again for your tremendous support in allowing me to lead this charge in demanding better and safer supplements without all the nonsense and marketing hype! Together we can make a world of difference. JYM Army strong!
Related Articles