Writer Bio: Joe Wuebben
Editorial Director, JYM Fitness Network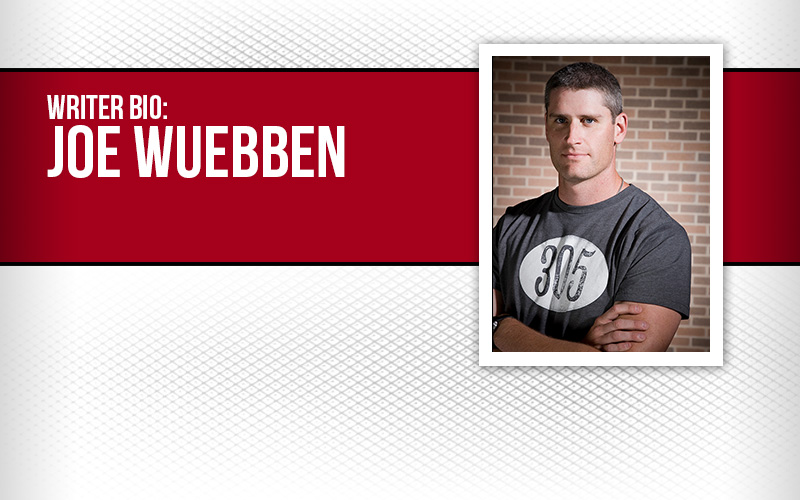 Joe Wuebben is the Editorial Director of the JYM Fitness Network and among the most respected writers and editors in the fitness publishing industry.
I know Joe from back in our days at Weider Publications. Prior to him coming on board here at JimStoppani.com and JYM Supplement Science in late 2014, Joe was on staff at Muscle & Fitness, the world's largest bodybuilding and fitness magazine, for over 12 years.
Joe was hired at Weider and began working in the historic Woodland Hills, California, offices with me as Articles Editor of M&F in September 2002, just six months after I was brought in as Science Editor. Over the course of the next 10+ years, Joe and I worked closely to produce countless training, nutrition, and supplement articles for the magazine. If you search online and find older articles from M&F, you'll see that many of them have a "By Jim Stoppani, PhD, and Joe Wuebben" byline.
As I worked my way to Senior Science Editor of Muscle & Fitness, FLEX and Muscle & Fitness Hers magazines, Joe ascended up the editorial ranks at M&F himself, being promoted to Features Editor, then Senior Features Editor, and finally Senior Editor. Joe left Weider in 2014 as one of the longest sitting editorial staff members in the print publishing industry's fitness genre.
While at M&F, Joe was known as more than just a behind-the-scenes editor; he was also recognized as one of the most talented feature writers in the field. His bylined M&F work was twice cited in the Best American Sports Writing anthology (2006 and 2007), and his cover story on wheelchair bodybuilder Colt Wynn won a prestigious "Maggie" award in 2007 for Best Feature in a Consumer Magazine by the Western Publishing Association (WPA).
Other M&F cover story subjects Joe interviewed and featured included such athletes and celebrities as NFL players Brian Urlacher, Adrian Peterson and Rob Gronkowski, WWE chairman Vince McMahon, actors Terry Crews and Dolph Lundgren, and hip-hop entertainer Flo Rida.
In total, Joe has written more than 600 print articles for over a dozen national magazines, including Muscle & Fitness, Men's Fitness, FLEX, Muscle & Fitness Hers, Oxygen, UFC Magazine, Maxim, Muscle & Performance, The Box, MuscleMag International, and Iron Man.
He also has several book-writing credits, including a co-authorship with me in our 2009 Stronger Arms & Upper Body book published by Human Kinetics. He also co-authored two of celebrity Mario Lopez's books: Extra Lean (2010) and Extra Lean Family (2011).
As editorial director for the JYM Fitness Network – including JimStoppani.com, JYMSupplementScience.com and WorkoutTrainer.com – Joe oversees all content for the websites and keeps an eye on our social media platforms as well.
Headshot photo credit: Ian Spanier Photography.
Related Articles