Food/Nutrient Database
Use my food/nutrient list to track your diet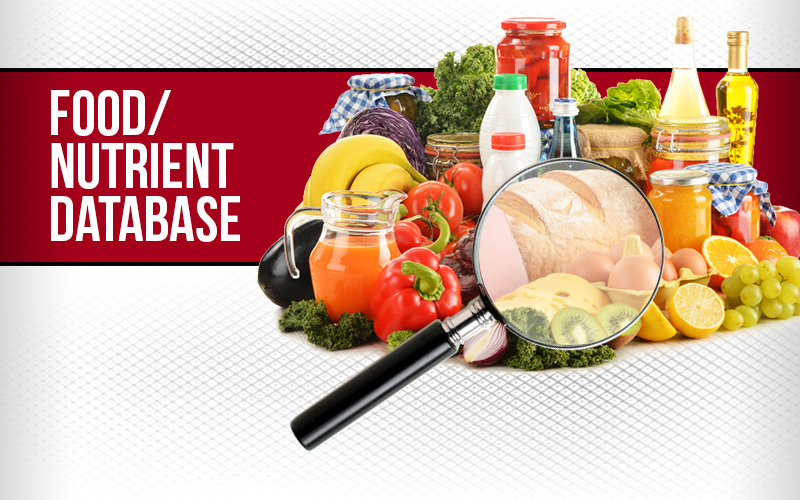 If you've followed any of my diets then you know my recommendations are NOT one-size-fits-all.
After all, whether the goal is to build more muscle or lose more fat, it doesn't make sense for a 250 lb guy to eat the same amount as a 150-pound guy. So my recommendations come in relative terms to body weight. For example, I typically recommend consuming about 1.5 grams of protein per pound of body weight. That's easy if you fall in the 160-200 pound weight range that I make my sample diets in. But what if you weigh far less than that or much more? You simply use my relative recommendations for grams of protein, carbs, and fat, as well as calories per pound of body weight and adjust for your weight.
But to be able to adjust any of my diets you have to have a reliable food/nutrient database. And it makes sense that I provide you the one that I use to create my diets and to track my own daily food intake. Most of the numbers for the foods I have come from the USDA. I find that that site is the most reliable to use for tracking food intake. If there's a food that I did not include in my food list, you can simply go to the USDA database and type in the food you want to calculate.
Even if you are not following one of my specific diets but are using your own, or just winging your food intake, you should consider keeping track of most days of the week to ensure that you are eating the correct amount of protein, carbs, and fat, not to mention calories.
Use my food list and/or the USDA database to track what you are throwing down your pie hole every day. The results may surprise you. And since nutrition is a critical factor to your progress, be it muscle gain and/or fat loss, the last thing you want are surprises. If you have no idea about how you should be eating to maximize your results then definitely use one of my many diets that will keep you on track and guarantee you unreal results.
How do you keep track? Simply write down everything that you eat each day and either weigh it using a food scale, measure it using a measuring cup/measuring spoons, or eyeball it. The easiest way to keep track of everything and calculate it is to use Excel. Then once you have the excel sheet formulated it will automatically add up all calories, protein, carbs and fat and convert into relative terms such as calories per pound of body weight for your weight.
Food Database
Most foods are uncooked unless noted otherwise
| Fish | Cal. | Prot. | Carbs | Fat |
| --- | --- | --- | --- | --- |
| 6 oz. Arctic char | 232 | 36 | 0 | 10 |
| 3 oz Bass | 97 | 16 | 0 | 3 |
| 3 oz. Catfish | 115 | 13 | 0 | 6 |
| 3 oz. cod | 70 | 15 | 0 | 1 |
| 3 oz Haddock | 74 | 16 | 0 | 1 |
| 3 oz. halibut | 94 | 18 | 0 | 2 |
| 3 oz. Mackerel | 134 | 17 | 0 | 7 |
| 3 oz Salmon | 156 | 17 | 0 | 9 |
| 1 oz. Salmon | 52 | 6 | 0 | 3 |
| 8 oz. salmon | 416 | 45 | 0 | 24 |
| 2 oz. Smoked Salmon | 100 | 13 | 1 | 5 |
| 1 can sardines in oil (drained) | 191 | 23 | 0 | 11 |
| 1 can King Oscar sardines (Cross Pack olive oil) | 150 | 14 | 11 | 11 |
| 1 can Season Brand Sardines in water | 130 | 22 | 0 | 5 |
| 1 oz. herring (kippered) | 17 | 7 | 0 | 4 |
| 3 oz. sea bass | 82 | 16 | 0 | 2 |
| 3 oz. Sole or flounder | 77 | 16 | 0 | 1 |
| 3 oz. swordfish | 103 | 17 | 0 | 3 |
| 3 oz. Trout | 126 | 18 | 0 | 6 |
| 3 oz. tuna raw | 122 | 20 | 0 | 4 |
| 1 oz. tuna raw | 41 | 7 | 0 | 1 |
| 1 (6 oz.) can tuna white in water | 220 | 41 | 0 | 5 |
| 1 (6 oz.) can light tuna in water | 191 | 42 | 0 | 1 |
| 1 (5 oz.) can chunk light tuna in water | 125 | 28 | 0 | 1 |
| 1 (7oz.) can Starkist White Tuna in water | 180 | 39 | 0 | 3 |
| 5 oz packet StarKist seasoned tuna filets | 120 | 26 | 1 | 2 |
| 3 oz. whitefish | 114 | 16 | 0 | 5 |
| 3 oz. orange roughy | 65 | 14 | 0 | 1 |
| 3 oz. Tilapia | 82 | 17 | 0 | 1 |
| 3 oz. eel | 156 | 16 | 0 | 10 |
| 1 lobster medium | 135 | 28 | 1 | 1 |
| 3 oz. Northern lobster meat (cooked) | 76 | 16 | 0 | 1 |
| 3 oz. Scallops | 75 | 14 | 0 | 1 |
| 1 Alaskan king crab leg | 144 | 31 | 0 | 1 |
| 1 Dungeness crab | 140 | 28 | 1 | 2 |
| 16 oz. cawn lump crab | 320 | 80 | 0 | 0 |
| 1 crab cake | 160 | 11 | 5 | 10 |
| 6 medium oysters | 57 | 6 | 3 | 2 |
| 6 medium clams | 66 | 11 | 2 | 1 |
| 6 medium mussels | 84 | 11 | 4 | 2 |
| 3 oz. Fried squid (calamari) | 149 | 15 | 7 | 6 |
| 4 oz. Shrimp | 120 | 23 | 1 | 2 |
| 1 med. shrimp | 6 | 1 | 0 | 0 |
| 3.5 oz octopus (cooked) | 164 | 30 | 4 | 2 |
| Poultry | Cal. | Prot. | Carbs | Fat |
| --- | --- | --- | --- | --- |
| 6 oz chicken breast | 185 | 39 | 0 | 2 |
| 1 oz. Chicken breast | 31 | 7 | 0 | 0 |
| 3 oz. cooked chicken breast | 142 | 27 | 0 | 3 |
| 3 oz. can chicken breast (Swanson) | 70 | 15 | 1 | 1 |
| 1 chicken thigh | 82 | 14 | 0 | 3 |
| 1 chicken drumstick | 76 | 13 | 0 | 2 |
| 2 oz. Columbus deli Chicken breast deli | 70 | 12 | 1 | 1 |
| 3 oz. turkey breast | 94 | 21 | 0 | 1 |
| 1 oz turkey breast | 37 | 8 | 0 | 0 |
| 4 oz Turkey deli meat | 104 | 22 | 2 | 0 |
| 2 oz. Columbus Roast Turkey Breast | 60 | 12 | 1 | 1 |
| 4 oz. Deli chicken breast | 95 | 21 | 0 | 1 |
| 3 slices Jennie-O extra lean turkey bacon | 60 | 9 | 0 | 2 |
| 1 Cornish game hen (roasted) | 295 | 51 | 0 | 9 |
| 6 chicken wings (Buffalo wings) | 366 | 34 | 6 | 22 |
| 4 oz. lean Ground turkey (97% lean) | 170 | 20 | 0 | 9 |
| 4 oz. Jennie-O extra lean ground turkey | 120 | 26 | 0 | 2 |
| 3 Banquet brown 'n serve turkey sausage links | 110 | 9 | 2 | 7 |
| 4 oz. Ground ostrich | 188 | 23 | 0 | 10 |
| 6 oz. Duck domesticated (meat only) | 226 | 31 | 0 | 10 |
| Beef | Cal. | Prot. | Carbs | Fat |
| --- | --- | --- | --- | --- |
| 1 oz Top Sirloin steak | 36 | 6 | 0 | 1 |
| 1 oz. Tri-tip roast | 46 | 6 | 0 | 2 |
| 1 oz. Flat iron steak | 51 | 5 | 0 | 3 |
| 1 oz. Ribeye steak | 77 | 5 | 0 | 6 |
| 1 oz. Beef, eye of round | 35 | 6 | 0 | 1 |
| 1 oz. beef, round, bottom round | 36 | 6 | 0 | 1 |
| 1 oz ground beef (95% lean) | 38 | 6 | 0 | 1 |
| 1 oz. ground beef (93% lean) | 45 | 6 | 0 | 2 |
| 1 oz ground beef (90% lean) | 49 | 6 | 0 | 3 |
| 1 oz ground beef (85% lean) | 60 | 5 | 0 | 4 |
| 1 oz ground beef (80% lean) | 71 | 5 | 0 | 6 |
| 1 oz ground beef (75% lean) | 82 | 4 | 0 | 7 |
| 1 oz ground beef (70% lean) | 93 | 4 | 0 | 8 |
| 4 oz. Laura's Lean Ground Beef (92% Lean) | 160 | 21 | 0 | 9 |
| 4 oz. Kirkland organic ground beef | 240 | 21 | 0 | 17 |
| 5 oz. Kirkland Organic ground beef | 300 | 26 | 0 | 21 |
| 4 oz. Open Spaces Ground beef | 130 | 22 | 0 | 14 |
| 1oz Beef Tenderloin | 78 | 5 | 0 | 6 |
| 1 oz. Porterhouse steak | 70 | 5 | 0 | 5 |
| 3 large Beef ribs | 474 | 34 | 0 | 37 |
| 1 oz. Beef brisket | 44 | 6 | 0 | 2 |
| 1 oz. T-bone steak | 62 | 5 | 0 | 4 |
| 4 oz. roastbeef | 167 | 21 | 1 | 8 |
| 1 oz. corned beef | 56 | 4 | 0 | 4 |
| 1 oz. flank steak | 44 | 6 | 0 | 2 |
| 1 oz. Beef liver | 39 | 6 | 0 | 1 |
| 1 oz. Beefalo | 41 | 7 | 0 | 1 |
| 1 oz. Filet Mignon | 77 | 5 | 0 | 6 |
| 1 oz. Bison steak | 31 | 6 | 0 | 1 |
| 4 oz. Trader Joe's Hawaain Short Ribs | 190 | 17 | 3 | 12 |
| 4 oz. Laura's Lean Ribeye | 155 | 25 | 0 | 6 |
| 4 oz. Laura's Lean NY Strip | 150 | 24 | 0 | 5 |
| 2 oz. Traders Joe's Uncured Pastrami | 80 | 13 | 2 | 2 |
| 4 oz. Morton's Tri-Tip | 180 | 20 | 4 | 10 |
| 1 oz. Beef jerky | 60 | 9 | 3 | 1 |
| 1 oz, Jack Links Peppered Beef Jerky | 80 | 15 | 4 | 1 |
| 1 oz. Buffalo Jerky (Mountain America) | 65 | 12 | 2 | 1 |
| 1 oz. Venison Jerky (Mountain America) | 72 | 13 | 2 | 1 |
| 1 oz. Beef Jerky (Mountain America) | 107 | 12 | 2 | 3 3.2 |
| Lamb | Cal. | Prot. | Carbs | Fat |
| --- | --- | --- | --- | --- |
| 1 oz. Leg of lamb | 59 | 5 | 0 | 4 |
| 1 oz. Ground lamb | 80 | 5 | 0 | 7 |
| 1 oz. Lamb chops | 59 | 5 | 0 | 4 |
| Pork | Cal. | Prot. | Carbs | Fat |
| --- | --- | --- | --- | --- |
| 1 oz Pork tenderloin | 39 | 6 | 0 | 2 |
| 1 oz. Pork Loin | 40 | 6 | 0 | 2 |
| 1 large pork chop | 205 | 20 | 0 | 13 |
| 1 rack baby back ribs (pork) | 810 | 53 | 0 | 65 |
| 1 oz. cured ham | 58 | 6 | 0 | 4 |
| 4 oz. Smoked deli ham | 186 | 21 | 1 | 11 |
| 3 slices bacon | 311 | 8 | 0 | 31 |
| 1 Italian sausage (pork) | 391 | 16 | 1 | 35 |
| 1 link smoked sausage (pork) | 265 | 15 | 1 | 22 |
| 1 oz. Ground pork | 75 | 5 | 0 | 6 |
| 1 slice Healthy Choice ham (low fat) | 31 | 5 | 1 | 1 |
| 2 oz. Trader Joes ham | 70 | 12 | 2 | 1 |
| 1 oz Kirkland lean ham | 25 | 5 | 0 | 0.5 |
| 5 slices Gallo reduced-fat Italian salami | 70 | 7 | 1 | 4 |
| Eggs | Cal. | Prot. | Carbs | Fat |
| --- | --- | --- | --- | --- |
| 1 large whole egg | 74 | 6 | 0.4 | 5 |
| 1 extra large whole egg | 85 | 7 | 0.45 | 6 |
| 1 jumbo whole egg | 96 | 8 | 0.5 | 6 |
| 1 large egg white | 17 | 4 | 0 | 0 |
| 1/2 cup liquid egg whites | 60 | 13 | 1 | 0 |
| Dairy | Cal. | Prot. | Carbs | Fat |
| --- | --- | --- | --- | --- |
| 8 oz. Fat Free (0%) Fage Greek Yogurt | 130 | 23 | 9 | 0 |
| 8 oz. Reduced fat Greek yogurt (2%) | 150 | 19 | 9 | 5 |
| 7 oz. 2% Fage Greek Yogurt | 150 | 20 | 8 | 4 |
| 6 oz. Fage 0% fat Greek Yogurt | 100 | 18 | 7 | 0 |
| 6 oz. fat-free Chobani greek yogurt | 100 | 18 | 7 | 0 |
| 6 oz. fat-free Chobani blueberry greek yogurt | 140 | 14 | 20 | 0 |
| 8 oz. container low-fat fruit yogurt | 225 | 9 | 42 | 3 |
| 8 oz. nonfat fruit Yogurt | 213 | 10 | 43 | 0 |
| 8 oz. Plain lowfat Yogurt | 143 | 12 | 16 | 4 |
| 8 oz plain non-fat Yogurt | 127 | 13 | 17 | 0 |
| 4 oz. Dannon Light & Fit fruit yogurt | 60 | 5 | 3 | 3 |
| 1 container (6oz) Yoplait | 170 | 5 | 33 | 2 |
| 1 container (6oz) Yoplait light | 100 | 5 | 19 | 0 |
| 1 container Kroger Carbmaster yogurt | 80 | 12 | 4 | 2 |
| 8 oz. non-fat cottage cheese | 123 | 25 | 3 | 1 |
| 8 oz. lowfat cottage cheese 1% | 163 | 28 | 6 | 2 |
| 8 oz cottage cheese (small curd) | 232 | 28 | 6 | 10 |
| 8 oz. nonfat (skim) milk | 83 | 8 | 12 | 0 |
| 8 oz. lowfat Milk (1%) | 102 | 8 | 12 | 2 |
| 8 oz. Reduced fat Milk (2%) | 122 | 8 | 11 | 5 |
| 8 oz. whole milk | 146 | 8 | 11 | 8 |
| 8 oz. low-fat chocolate milk | 158 | 8 | 26 | 2 |
| 8 oz. chocolate milk | 208 | 8 | 26 | 8 |
| 1 cup non-fat dry milk | 434 | 43 | 62 | 1 |
| 1 cup light soy milk | 70 | 6 | 8 | 2 |
| 1/2 cup fat-free half n half | 71 | 3 | 11 | 2 |
| 1 (3/8 oz.) UHT container half n half | 15 | 0 | 0 | 1 |
| 1 Tbsp Half and half (15 g) | 20 | 0.44 | 0.64 | 1.72 |
| 1 Tbsp Butter | 102 | 0 | 0 | 12 |
| 1 pat butter | 36 | 0 | 0 | 4 |
| 1 slice (1 oz.) reduced-fat swiss cheese | 90 | 8 | 1 | 6 |
| 1 slice (1 oz.) reduced-fat American cheese | 70 | 5 | 1 | 5 |
| 1 slice lowfat American cheese | 38 | 5 | 1 | 1 |
| 1 slice lowfat swiss cheese | 50 | 8 | 1 | 1.5 |
| 1 slice (3/4 oz.) fat-free cheese | 31 | 5 | 3 | 0 |
| 1 slice (1 oz.) American White Cheese | 110 | 6 | 1 | 9 |
| 1 cup ricotta (part skim) | 339 | 28 | 12 | 20 |
| 1/4 cup fat-free ricotta | 50 | 5 | 5 | 0 |
| 1/4 cup shredded reduced fat cheddar cheese | 80 | 8 | 1 | 5 |
| 2 Tbsp lite sour cream | 30 | 2 | 2 | 2 |
| 1 tbsp reduced fat sour cream | 20 | 0 | 1 | 2 |
| 1 tbsp fat free sour cream | 11 | 0 | 2 | 0 |
| 1 Tbsp light cream cheese | 30 | 2 | 1 | 2 |
| 1 Tbsp cream cheese | 51 | 1 | 0 | 5 |
| 1 Tbsp low-fat cream cheese | 35 | 2 | 1 | 3 |
| 1 Tbsp fat-free cream cheese | 14 | 2 | 1 | 0 |
| 1 oz. light mozzarella | 45 | 5 | 0 | 3 |
| 1 oz. Mozzarella, part skim | 72 | 7 | 1 | 5 |
| 1 cup shredded fat-free mozzarella | 168 | 36 | 4 | 0 |
| 1 stick light mozzarella string cheese (~ 1oz.) | 50 | 6 | 1 | 3 |
| 1/2 cup shredded fat-free cheddar cheese | 84 | 18 | 2 | 0 |
| 1 slice cheddar cheese | 113 | 7 | 0 | 9 |
| 1 slice provolone cheese | 98 | 7 | 1 | 7 |
| 1 slice low fat monterey jack cheese | 88 | 8 | 0 | 6 |
| 1 wedge (3/4 oz) Laughing Cow cheese | 35 | 3 | 1 | 2 |
| 2 Tbsp grated Parmesan cheese | 25 | 2 | 0 | 1.5 |
| 1 oz. Fat-free feta | 35 | 7 | 1 | 0 |
| 1 oz. Trader Joe's Lite Feta | 40 | 5 | 1 | 2 |
| 1 oz. Trader Joe's 75% reduced fat Cabot Cheese | 60 | 9 | 1 | 3 |
| 1 oz. Trader Joe's Celtic Cheddar | 70 | 8 | 0 | 4 |
| 2 oz. lean cheddar cheese | 94 | 14 | 2 | 3 |
| 1 cup ice cream | 267 | 5 | 32 | 14 |
| 3.6 oz cup Ben & Jerry's Cookie Dough ice cream | 250 | 4 | 27 | 14 |
| 1 cup sherbet | 278 | 2 | 59 | 4 |
| 1 cup sorbet | 174 | 2 | 40 | 0 |
| 1 mango passion fruit sorbet | 51 | 1 | 11 | 1 |
| 1 cup nonfat frozen yogurt | 164 | 6 | 35 | 1 |
| 1 cup lowfat frozen yogurt | 214 | 9 | 39 | 3 |
| 1 cup frozen yogurt | 221 | 5 | 38 | 6 |
| 1 Skinny Cow Ice Cream Sandwich | 150 | 4 | 31 | 2 |
| Pasta | Cal. | Prot. | Carbs | Fat |
| --- | --- | --- | --- | --- |
| 1 cup Spaghetti (cooked) | 221 | 8 | 43 | 1 |
| 2 oz. Dry Spaghetti | 211 | 7 | 43 | 1 |
| 1 cup Soba (cooked) | 113 | 6 | 24 | 0 |
| 1 cup Rice noodles (cooked) | 192 | 2 | 44 | 0 |
| 1 cup egg noodles (cooked) | 221 | 7 | 40 | 3 |
| 1 cup whole wheat pasta (cooked) | 174 | 7 | 37 | 1 |
| 1 cup whole wheat mac n cheese(cooked) | 260 | 8 | 50 | 4 |
| 1 cup macaroni n cheese (cup) | 370 | 16 | 68 | 4 |
| 1 package ramen noodles | 385 | 8 | 56 | 15 |
| 1 cup quinoa (cooked) | 222 | 8 | 39 | 4 |
| 1/4 cup qiunoa (uncooked/dry) | 170 | 5 | 30 | 3 |
| 1 cup couscous (cooked) | 176 | 6 | 36 | 0 |
| 1/4 cup spelt (uncooked/dry) | 160 | 5 | 32 | 1 |
| Legumes | Cal. | Prot. | Carbs | Fat |
| --- | --- | --- | --- | --- |
| 1 cup black beans (cooked) | 227 | 15 | 41 | 1 |
| 1 cup boiled soybeans (edamame) | 254 | 22 | 20 | 12 |
| 1 cup roasted soy beans | 810 | 61 | 58 | 44 |
| 6 oz. Tofu | 119 | 14 | 3 | 7 |
| 1 cup baked beans (cooked) | 239 | 12 | 54 | 1 |
| 1 cup kidney beans (cooked) | 225 | 15 | 40 | 1 |
| 1 cup lima beans (cooked) | 216 | 15 | 39 | 1 |
| 1 cup navy beans (cooked) | 255 | 15 | 47 | 1 |
| 1 cup pinto beans (cooked) | 245 | 15 | 45 | 1 |
| 1 cup lentils (cooked) | 230 | 18 | 40 | 1 |
| 1 cup chickpeas (cooked) | 286 | 12 | 54 | 3 |
| 1 cup Hummus | 415 | 20 | 36 | 24 |
| 1 cup refried beans | 237 | 14 | 39 | 3 |
| 1 Tbsp Peanut butter | 94 | 4 | 3 | 8 |
| 1 Tbsp P28 White Chocolate Peanut Butter | 123 | 7 | 4 | 9 |
| 1 oz. Peanuts | 166 | 7 | 6 | 14 |
| Rice | Cal. | Prot. | Carbs | Fat |
| --- | --- | --- | --- | --- |
| 1 cup Brown rice-medium grain (cooked) | 218 | 5 | 46 | 2 |
| 1 cup White rice-medium grain (cooked) | 242 | 4 | 53 | 0 |
| 1 cup white rice-long grain (cooked) | 205 | 4 | 45 | 0 |
| 1 Rice cake | 35 | 1 | 7 | 0 |
| 1 cup wild rice (cooked) | 166 | 7 | 35 | 1 |
| 1/4 cup dry Calrose Rice (med grain) | 170 | 3 | 37 | 0 |
| Soup/ Stew/ Chili | Cal. | Prot. | Carbs | Fat |
| --- | --- | --- | --- | --- |
| 1 cup New England Clam chowder | 117 | 5 | 20 | 2 |
| 1 cup chicken noodle soup | 76 | 6 | 9 | 2 |
| 1 cup beef stew | 222 | 11 | 16 | 13 |
| 1 cup chili with beans | 287 | 15 | 30 | 14 |
| 1 cup black bean soup | 116 | 6 | 20 | 2 |
| 1 cup minestrone soup | 82 | 4 | 11 | 3 |
| 1 cup split pea soup (with ham) | 190 | 10 | 28 | 4 |
| 1 cup tomato soup | 85 | 2 | 17 | 2 |
| 1 cup chicken broth | 5 | 1 | 0 | 0 |
| 1 cup beef broth | 29 | 5 | 2 | 0 |
| 1cup ProgressoHealthyClassicsBeef Vegetable | 64 | 4 | 10 | 1 |
| 1 cup Miso soup | 70 | 5 | 9 | 2 |
| Bread/Bakery/Wheat Products | Cal. | Prot. | Carbs | Fat |
| --- | --- | --- | --- | --- |
| 1 slice white bread | 66 | 2 | 13 | 1 |
| 1 slice whole wheat bread | 70 | 3 | 13 | 1 |
| 1 slice multigrain bread | 65 | 3 | 12 | 1 |
| 1 slice rye bread | 83 | 3 | 15 | 1 |
| 1 slice pumpernickel bread | 65 | 2 | 12 | 1 |
| 1 medium plain bagel | 289 | 11 | 56 | 2 |
| 1 Western Bagel Perfect 10 Healthy Grain | 140 | 18 | 19 | 2 |
| 1 cinnamon raisin bagel (4.5 " diam.) | 322 | 12 | 65 | 2 |
| 1 slice Ezekiel 4:9 bread | 80 | 4 | 15 | 0.5 |
| 1 Ezekiel English muffin | 160 | 8 | 30 | 1 |
| 1 Ezekiel 4:9 tortilla | 150 | 6 | 24 | 3.5 |
| 1 large pita bread (white) 6.5" | 165 | 5 | 33 | 1 |
| 1 large pita bread (wheat) 6.5" | 170 | 6 | 35 | 2 |
| 1 10" whole-wheat tortilla (Mission Foods) | 200 | 8 | 31 | 5 |
| 1 Mission carb balance tortilla | 80 | 3 | 12 | 2 |
| 1 English muffin, plain enriched | 134 | 4 | 26 | 1 |
| 1 whole-wheat English muffin | 134 | 6 | 27 | 1 |
| 1 hamburger roll | 120 | 4 | 21 | 2 |
| 1 whole-wheat hamburger bun | 114 | 4 | 22 | 2 |
| 1 dinner roll | 84 | 2 | 14 | 2 |
| 1 whole wheat dinner roll | 74 | 2 | 14 | 1 |
| 1 Hawaiian Bread Roll | 90 | 3 | 18 | 3 |
| ½ baguette | 270 | 9 | 50 | 3.5 |
| 6 whole wheat crackers | 108 | 2 | 18 | 4 |
| 6 saltine crackers | 154 | 3 | 26 | 4 |
| 5 Triscuit Whole Wheat crackers original | 80 | 2 | 16 | 2 |
| 5 Ak Mak Whole wheat crackers | 116 | 5 | 19 | 2 |
| 1 Ak Mak Whole wheat cracker | 23 | 1 | 4 | 0 |
| 1 medium oat bran muffin | 324 | 8 | 55 | 8 |
| 1 bran muffin (low fat) | 136 | 3 | 31 | 3 |
| 1 whole-grain waffle (Vans) | 95 | 3 | 15 | 3 |
| 1 Vans Wheat-Free Flax Waffle | 115 | 3 | 21 | 3 |
| 3 four-inch pancakes (Krusteaz buttermilk) | 180 | 4 | 36 | 1.5 |
| 1/4 Boboli whole-wheat pizza crust | 188 | 8 | 34 | 4 3 |
| 1/4 cup Progresso Italian style bread crumbs | 110 | 4 | 20 | 1.5 |
| 1/2 cup wheat germ | 207 | 13 | 30 | 6 |
| Vegetables | Cal. | Prot. | Carbs | Fat |
| --- | --- | --- | --- | --- |
| 1 medium baked potato | 161 | 4 | 37 | 0 |
| 1 medium sweet potato | 103 | 2 | 24 | 0 |
| 1 large sweet potato | 160 | 4 | 37 | 0 |
| 1 pound Sweet potato | 387 | 7 | 90 | 0 |
| 10 oz red potatoes | 200 | 5 | 45 | 1 |
| 1 medium tomato | 22 | 1 | 5 | 0 |
| 1 slice tomato | 5 | 0 | 1 | 0 |
| 1 cup chopped tomato | 32 | 2 | 7 | 0 |
| 1 can (14.5 oz.) diced tomatoes with chiles | 87 | 4 | 18 | 0 |
| 1 medium onion | 46 | 1 | 11 | 0 |
| 1 medium Mushroom | 8 | 1 | 1 | 0 |
| 1/2 cup canned mushrooms | 20 | 1 | 4 | 0 |
| 1 medium bell pepper | 24 | 1 | 6 | 0 |
| 1 ring of bell pepper | 2 | 0 | 0 | 0 |
| 2 cups mixed green salad | 44 | 3 | 8 | 0 |
| 1 cup shredded lettuce (iceberg) | 10 | 1 | 2 | 0 |
| 3 leaves Romain hearts | 8 | 0 | 2 | 0 |
| 1 cup raw spinach | 7 | 1 | 1 | 0 |
| 10 oz bag spinach | 65 | 8 | 10 | 1 |
| 20 asparagus spears | 60 | 6 | 12 | 0 |
| 1 cup asparagus | 27 | 3 | 5 | 0 |
| 1 can green beans | 52 | 3 | 12 | 0 |
| 1 cup green beans | 36 | 2 | 8 | 0 |
| 1 cup chopped broccoli | 31 | 3 | 6 | 0 |
| 1 cup cooked cauliflower | 28 | 1 | 3 | 0 |
| 1 cup Brussels sprouts | 38 | 3 | 8 | 0 |
| 1 cup peas | 118 | 8 | 21 | 1 |
| 1 medium carrot | 25 | 1 | 6 | 0 |
| 1 cup carrots sliced | 54 | 1 | 11 | 1 |
| 1 medium cucumber (peeled) | 24 | 1 | 4 | 0 |
| 1 cup sliced zucchini | 29 | 1 | 7 | 0 |
| 1 cup eggplant | 20 | 1 | 5 | 0 |
| 1 medium celery | 6 | 0 | 1 | 0 |
| 1 cup mixed frozen veggies (cooked drained) | 110 | 3 | 12 | 0 |
| 1 cup cooked okra (slices) | 40 | 3 | 7 | 0 |
| 1 cup bok choy (cooked) | 24 | 2 | 4 | 0 |
| 1 cup cooked spaghetti squash (winter) | 42 | 1 | 10 | 0 |
| 1 clove garlic | 4 | 0 | 1 | 0 |
| 1 green olive pickled | 4 | 0 | 0.1 | 0.4 |
| 4 large black olives | 20 | 0 | 1 | 2 |
| 3 sweet cherry peppers | 15 | 1 | 2 | 0 |
| 1 cup canned beets | 53 | 2 | 12 | 0 |
| 1 medium artichoke (boiled) | 64 | 3 | 14 | 0 |
| 100 g (3 large leaves) chard | 19 | 2 | 4 | 0 |
| 1 cup kohlrabi | 36 | 2 | 8 | 0 |
| 1 cup frozen stir fry veggies | 40 | 1 | 8 | 0 |
| 1 cup buternut squash cubes (cooked) | 82 | 2 | 22 | 0 |
| 1 acorn squash (430 g) | 172 | 3 | 45 | 0 |
| 1 cup Kirkland frozen Stir-fry vegetables | 40 | 1 | 8 | 0 |
| 1/2 cup Trader Joe' Asian Stir fry veggies | 25 | 1 | 5 | 0 |
| 1/3 container Trader Joes chopped veggies | 50 | 2 | 10 | 0 |
| 1/4 container Ralph's Fajita veggie mix | 30 | 1 | 7 | 0 |
| Fruit | Cal. | Prot. | Carbs | Fat |
| --- | --- | --- | --- | --- |
| 1 large apple | 110 | 0 | 30 | 0 |
| 1 medium apple | 95 | 0 | 25 | 0 |
| 1 small apple | 77 | 0 | 21 | 0 |
| 1 cup unsweetened applesauce | 102 | 0 | 28 | 0 |
| 1 cup Strawberries (whole) | 46 | 1 | 11 | 0 |
| 1 cup sliced strawberries | 53 | 1 | 13 | 0 |
| 1 medium avocado | 289 | 3 | 15 | 27 |
| 1 cup sliced pineapple | 79 | 1 | 20 | 0 |
| 1 cup canned Mandarin oranges | 100 | 2 | 24 | 0 |
| 1 medium banana | 105 | 1 | 27 | 0 |
| 1/2 large cantaloupe | 136 | 3 | 34 | 1 |
| 1 medium cantaloupe medium (5" dia) | 188 | 5 | 45 | 1 |
| 1 medium peach | 38 | 1 | 9 | 0 |
| 1 large orange | 86 | 2 | 22 | 0 |
| 1 cup blueberries | 83 | 1 | 21 | 0 |
| 1 medium pear | 96 | 1 | 26 | 0 |
| 1 large pear | 121 | 1 | 32 | 0 |
| 1 cup raspberries | 64 | 1 | 15 | 1 |
| 1/2 cup peach halves (jarred or canned) | 80 | 1 | 18 | 0 |
| 1/2 large grapefruit | 53 | 1 | 13 | 0 |
| 1 medium nectarine | 60 | 1 | 14 | 0 |
| 1 cup mixed fruit (light syrup) | 145 | 1 | 37 | 0 |
| 1 cup Cherries, sweet | 74 | 1 | 19 | 0 |
| 1 cup sliced watermelon | 46 | 1 | 11 | 0 |
| 1 cup raisins | 434 | 4 | 115 | 1 |
| Small box Sun-Maid raisins (1 oz.) | 90 | 1 | 22 | 0 |
| 1/2 cup pomegranate arils | 72 | 2 | 16 | 1 |
| 1 cup grapes | 62 | 1 | 16 | 0 |
| 1 kiwi | 42 | 1 | 10 | 0 |
| 1/4 cup dried tart cherries (Sun-Maid) | 140 | 0 | 34 | 0 |
| Nuts/Seeds | Cal. | Prot. | Carbs | Fat |
| --- | --- | --- | --- | --- |
| 1 oz mixed nuts | 168 | 5 | 7 | 15 |
| 1/4 cup almonds | 206 | 8 | 7 | 18 |
| 1 oz. Almonds (22) | 169 | 6 | 5 | 15 |
| 1/4 cup sliced almonds | 180 | 7 | 5 | 15 |
| 2 Tbsp almond butter | 180 | 7 | 6 | 18 |
| 1/4 cup Almond Meal/Flour | 160 | 6 | 6 | 14 |
| 1 oz. Cashews | 163 | 4 | 9 | 13 |
| 1 oz. Hazelnuts | 183 | 4 | 5 | 18 |
| 1 oz. Macadamia nuts (10-12) | 203 | 2 | 4 | 22 |
| 1 oz. Pecans (15 halves) | 201 | 3 | 4 | 21 |
| 1 oz. walnuts (14 halves) | 185 | 4 | 4 | 18 |
| 1 oz. Brazil nuts (6) | 186 | 4 | 3 | 19 |
| 2 Tbsp roasted flax seeds | 90 | 3 | 4 | 7 |
| 1 Tbsp ground flax seed | 37 | 1 | 2 | 3 |
| 1 Tbsp flax seed oil | 120 | 0 | 0 | 13 |
| 1 oz. (1/4 cup) shelled pumpkin seeds | 150 | 9 | 4 | 12 |
| 1/4 cup shelled sunflower seeds | 170 | 7 | 5 | 15 |
| 1 tsp roasted sesame seeds | 30 | 1 | 1 | 3 |
| Cereal | Cal. | Prot. | Carbs | Fat |
| --- | --- | --- | --- | --- |
| 1 cup Oatmeal (cooked) | 147 | 6 | 25 | 2 |
| 1 cup Oatmeal (uncooked/dry) | 290 | 12 | 51 | 5 |
| 1 packet Lower sugar Quaker instant oatmeal (flavored) | 120 | 4 | 24 | 2 |
| 1 packet Quaker Oatmeal (Weight Control) | 160 | 7 | 29 | 3 |
| 1 packet Quaker Instant Oatmeal (flavored) | 130 | 3 | 27 | 2 |
| 1 packet cream of wheat (instant) | 102 | 3 | 22 | 0 |
| 1 packet Trader Joe's Pecan Pumpkin Oatmeal | 180 | 4 | 33 | 4 |
| 1 cup Raisin Bran | 178 | 5 | 43 | 1 |
| 1 cup Rice Krispies | 108 | 2 | 24 | 0 |
| 1 cup Cheerios | 111 | 4 | 22 | 2 |
| 1 cup Wheaties | 106 | 3 | 24 | 1 |
| 1 cup Corn Flakes | 101 | 2 | 24 | 0 |
| 1 cup Frosted Mini wheats | 100 | 3 | 24 | 1 |
| 1 cup Special K | 117 | 7 | 22 | 0 |
| 1/2 cup Grape-Nuts | 208 | 6 | 47 | 1 |
| 1 cup Kashi Go Lean Cereal | 140 | 13 | 30 | 1 |
| 1 cup Uncle Sam Cereal | 237 | 9 | 36 | 6 |
| 1 cup corn grits (cooked) | 143 | 3 | 31 | 0 |
| 1 cup Froot Loops | 120 | 1 | 26 | 1 |
| 1 cup Quaker Oat Squares | 210 | 6 | 44 | 3 |
| ½ cup Bear Naked fruit and nut granola | 280 | 6 | 36 | 14 |
| ¼cup Bear Naked Triple Berry Crunch Granola | 120 | 4 | 23 | 2 |
| ¼cup Bear Naked Vanilla Almond Crunch | 120 | 4 | 22 | 3 |
| ¼ cup Bear Naked Oats&Honey Granola | 130 | 3 | 22 | 4 |
| ¼ cup Bear Naked Maple Pecan Granola | 130 | 3 | 22 | 4 |
| ½cup Back to Nature Chocolate Granola | 220 | 5 | 37 | 6 |
| ½ cup Back to Nature Blueberry Granola | 200 | 6 | 39 | 3 |
| 1 Cliff bar (any flavor) | 260 | 11 | 42 | 5 |
| 1 Quaker Granola bar | 100 | 2 | 17 | 3 |
| 1 Fiber One Bar (peanut bar) | 50 | 3 | 28 | 5 |
| Juices | Cal. | Prot. | Carbs | Fat |
| --- | --- | --- | --- | --- |
| 8 oz. apple juice (unsweetened) | 117 | 0 | 29 | 0 |
| 8 oz. orange juice | 110 | 2 | 25 | 1 |
| 8 oz. grapefruit juice | 96 | 1 | 23 | 0 |
| 8 oz. Tomato juice | 41 | 2 | 10 | 0 |
| 1 oz. pomegranate juice | 17 | 0 | 4 | 0 |
| 1 Tbsp lemon juice | 3 | 0 | 1 | 0 |
| 8 oz. beet juice | 100 | 2 | 24 | 0 |
| Condiments | Cal. | Prot. | Carbs | Fat |
| --- | --- | --- | --- | --- |
| 1 Tbsp Jams/preserves | 56 | 0 | 14 | 0 |
| 1 tbsp low sugar preserves | 34 | 0 | 9 | 0 |
| 2 Tbsp Fluff | 40 | 0 | 10 | 0 |
| 1 Tbsp salad dressing (oil n vinegar) | 72 | 0 | 0 | 8 |
| 1 Tbsp fat free Italian salad dressing | 10 | 0 | 2 | 0 |
| 1 Tbsp low fat ranch dressing | 33 | 0 | 3 | 3 |
| 2 Tbsp ranch dressing | 148 | 0 | 1 | 16 |
| 1 Tbsp blue Cheese dressing | 75 | 0 | 1 | 7 |
| 2 Tbsp low fat balsamic vinaigrette(Newman's Own) | 20 | 0 | 6 | 2 |
| 1 Tbsp Kraft Balsamic Vinaigrette | 45 | 0 | 2 | 4 |
| 2 Tbsp Marzetti dill veggie dip | 120 | 1 | 2 | 13 |
| 1 Tbsp Ginger dressing (Angelo Pietro's) | 28 | 1 | 4 | 1 |
| 1 Tbsp fat free mayonnaise | 11 | 0 | 2 | 0 |
| 1 Tbsp liTE mayonnaise | 35 | 0 | 1 | 4 |
| 1 Tbsp mayonnaise | 57 | 0 | 4 | 5 |
| 1 Tbsp Kraft mayo w/Olive oil | 45 | 0 | 2 | 4 |
| 1 tsp or packet mustard | 3 | 0 | 0 | 0 |
| 1 Tbsp catsup | 15 | 0 | 4 | 0 |
| 2 Tbsp Barbeque Sauce (Tony Roma's bottled) | 50 | 0 | 12 | 0 |
| 2 Tbsp Stubbs Bar-B-Q Sauce | 30 | 0 | 6 | 0 |
| 1 Tbsp fat-free creamer | 25 | 0 | 5 | 0 |
| 1 tsp sugar | 16 | 0 | 4 | 0 |
| 1/2 cup sugar | 400 | 0 | 100 | 0 |
| 1 tsp brown sugar | 12 | 0 | 3 | 0 |
| 1/2 cup spaghetti/marinara sauce | 92 | 2 | 14 | 3 |
| 2 tbsp salsa | 8 | 0 | 2 | 0 |
| 1 Tbsp seafood cocktail sauce | 25 | 0 | 6 | 0 |
| 2 Tbsp Maple Syrup | 105 | 0 | 26 | 0 |
| 1/4 cup Vermont sugar-free maple syrup | 10 | 0 | 4 | 0 |
| 1 Tbsp honey | 64 | 0 | 17 | 0 |
| 1 tsp honey | 21 | 0 | 5 | 0 |
| 1/2 bag 94% fat free microwave popcorn | 120 | 4 | 25 | 2 |
| 1 Tbsp Olive oil | 119 | 0 | 0 | 14 |
| 1 tsp Olive oil | 40 | 0 | 0 | 5 |
| 2 Tbsp Fat-free Reddi Wip | 5 | 0 | 1 | 0 |
| 2 Tbsp Reddi-Wip | 15 | 0 | 1 | 1 |
| Candy | Cal. | Prot. | Carbs | Fat |
| --- | --- | --- | --- | --- |
| 22 Gummi Bears (Haribo) | 150 | 3 | 34 | 0 |
| 20 Gummi Bears | 136 | 3 | 31 | 0 |
| 30 Gummi Bears | 204 | 4 | 46 | 0 |
| 10 Haribo Cola Gummies | 130 | 3 | 29 | 0 |
| 7 small Wonka Pixy Stix | 60 | 0 | 15 | 0 |
| 1 Giant Wonka Pixy Stix | 100 | 0 | 26 | 0 |
| 13 Wonka Sweetarts | 60 | 0 | 13 | 0 |
| 14 Wonka Sweetart Gummies | 130 | 1 | 32 | 0 |
| 4 Wonka Kazoozles | 180 | 0 | 43 | 0 |
| 35 Jelly beans (Jelly Belly) | 140 | 0 | 35 | 0 |
| 2 squares(2 oz.)dark chocolate (70% cacao) | 65 | 2 | 4 | 5 |
| 16 Bittersweet (60% cacao) chocolate chips | 80 | 1 | 8 | 6 |
| 4 large marshmallows | 100 | 1 | 24 | 0 |
| Alcohol | Cal. | Prot. | Carbs | Fat |
| --- | --- | --- | --- | --- |
| 12 oz. Budweiser | 146 | 1 | 10 | 0 |
| 12 oz. Bud Light | 110 | 1 | 7 | 0 |
| 4 oz. Red wine (Merlot) | 102 | 0 | 3 | 0 |
| 4 oz. cooking wine | 103 | 1 | 7 | 0 |
| Fast Food | Cal. | Prot. | Carbs | Fat |
| --- | --- | --- | --- | --- |
| 6inch Subway Turkey (double meat) on wheat | 330 | 28 | 48 | 5 |
| 6inch Subway Turkey and ham (double meat) on wheat | 360 | 31 | 50 | 7 |
| Subway club salad (double meat) | 220 | 35 | 13 | 4 |
| McDonalds Tendergrill chicken salad (1/2 packet light Italian dressing) | 300 | 33 | 11 | 15 |
| McDonalds Premium Grilled Chicken Classic (without mayo) | 370 | 32 | 50 | 5 |
| Wendy's black forest ham &swiss Frescata (no cheese) | 330 | 21 | 45 | 8 |
| 1 KFC chicken breast (breading removed) | 160 | 31 | 2 | 4 |
| KFC Green beans | 50 | 2 | 7 | 2 |
| KFC House side salad | 15 | 1 | 2 | 0 |
| 2 slices Pizza Hut med.Thin'NCrispy cheese pizza | 200 | 8 | 21 | 8 |
| 1 slice Pizza Hut pepperoni pizza | 280 | 12 | 27 | 14 |
| 1 slice Dominoes Meatza deep dish | 205 | 15 | 27 | 20 1 |
| 1 serving (4 oz.) Chipotle chicken | 190 | 32 | 1 | 6.5 |
| 1 serving (4 oz.) Chipotle Steak | 190 | 30 | 2 | 6.5 |
| 1 serving (2.5 oz.) Chipotle Fajita veggies | 20 | 1 | 4 | 0 |
| 1 serving (3.5 oz.) Chipotle guacamole | 150 | 2 | 8 | 13 |
| 1 serving (3.5 oz.) Chipotle mild salsa | 20 | 1 | 4 | 0 |
| Snacks/Other | Cal. | Prot. | Carbs | Fat |
| --- | --- | --- | --- | --- |
| 3 Oreos | 165 | 1 | 21 | 7 |
| 3 reduced fat Oreos | 150 | 1 | 27 | 5 |
| 1 snack size Mounds bar | 80 | 1 | 10 | 5 |
| 1 large slice Angel food cake (1/6 of cake) | 144 | 3 | 32 | 0 |
| 1 can (12 oz.) Cola | 136 | 0 | 35 | 0 |
| 32 oz. Gatorade | 270 | 0 | 66 | 0 |
| 12 oz. Gatorade | 90 | 0 | 22 | 0 |
| 1 packet Swiss Miss Diet cocoa mix | 25 | 2 | 4 | 0 |
| 1 cup air popped popcorn | 31 | 1 | 6 | 0 |
| 1 oz. bag Baked Lays | 120 | 2 | 23 | 2 |
| 1 oz. Tostitos flour tortilla chips | 140 | 2 | 19 | 7 |
| 1 oz. pita chips | 130 | 3 | 19 | 5 |
| Dreyers frozen fruit bar | 30 | 0 | 8 | 0 |
| 1 sugar-free popsicle | 12 | 0 | 3 | 0 |
Related Articles