Food Alternatives List
Alter any of my diets by using this alternative food list.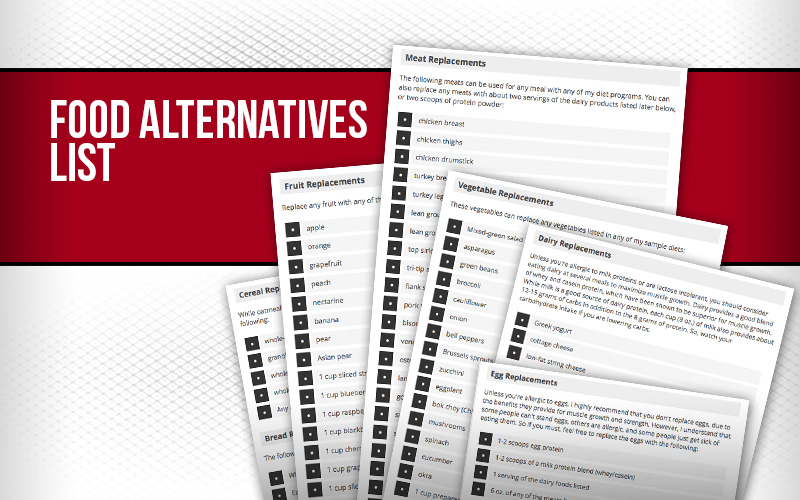 In most of my diets and nutrition plans on the site, you'll notice that the sample meal plans don't offer much variety. This doesn't mean that you should be eating these exact foods and only these foods. When it comes to nutrition, variety is always best. Yet many people worry that eating a different type of meat for dinner, or a different kind of fruit, is going to throw off their diet. In reality, you can replace most foods with similar, yet different, foods without it affecting your macronutrient and calorie totals much, if at all.
The key is to use these diets as templates: Replace the foods with different selections that are of similar kind and size. For example, if you want to replace 8 oz. of top sirloin steak, swap it with 8 oz. of chicken or other poultry, fish or lean pork. If you want to replace a medium apple, you can choose a medium peach, or orange, or pear. One cup of chopped broccoli can be replaced with one cup of green beans, or chopped zucchini, or chopped asparagus.
Refer to the food alternatives lists below for foods that you can and should use to replace these foods so that your diet doesn't become boring and lacking in nutrient diversity.
Meat Replacements
The following meats can be used for any meal with any of my diet programs. You can also replace any meats with about two servings of the dairy products listed later below, or two scoops of protein powder:
chicken breast
chicken thighs
chicken drumstick
turkey breast
turkey leg
lean ground turkey
lean ground beef
top sirloin steak
tri-tip steak
flank steak
pork tenderloin
bison
venison
ostrich
lamb
goat
salmon
sardines
herring
trout
tilapia
cod
halibut
sole or flounder
arctic char
shrimp
crab
scallop (sea or fresh water)
clams
mussels
oysters
lobster
squid
octopus
lean deli turkey breast
lean deli chicken breast
lean deli ham
lean deli roast beef
Dairy Replacements
Unless you're allergic to milk proteins or are lactose intolerant, you should consider eating dairy at several meals to maximize muscle growth. Dairy provides a good blend of whey and casein protein, which have been shown to be superior for muscle growth. While milk is a good source of dairy protein, each cup (8 oz.) of milk also provides about 12-15 grams of carbs in addition to the 8 grams of protein. So, watch your carbohydrate intake if you are lowering carbs.
Greek yogurt
cottage cheese
low-fat string cheese
3 slices or ounces of low-fat cheese (such as American, cheddar, Swiss, feta, etc.)
1 scoop of protein powder
4-6 oz. of any of the meats listed above
2 oz. beef jerky
Egg Replacements
Unless you're allergic to eggs, I highly recommend that you don't replace eggs, due to the benefits they provide for muscle growth and strength. However, I understand that some people can't stand eggs, others are allergic, and some people just get sick of eating them. So if you must, feel free to replace the eggs with the following:
1-2 scoops egg protein
1-2 scoops of a milk protein blend (whey/casein)
1 serving of the dairy foods listed
6 oz. of any of the meats listed
Vegetable Replacements
These vegetables can replace any vegetables listed in any of my sample diets:
Mixed-green salad
asparagus
green beans
broccoli
cauliflower
onion
bell peppers
Brussels sprouts
zucchini
eggplant
bok choy (Chinese cabbage)
mushrooms
spinach
cucumber
okra
1 cup prepared stir-fry vegetables
Fruit Replacements
Replace any fruit with any of these:
apple
orange
grapefruit
peach
nectarine
banana
pear
Asian pear
1 cup sliced strawberries
1 cup blueberries
1 cup raspberries
1 cup blackberries
1 cup cherries
1 cup grapes
1 cup sliced pineapple
1 cup sliced watermelon
kiwifruit
½ small cantaloupe
½ small honey dew melon
Cereal Replacements
While oatmeal makes a great breakfast carbohydrate, you can replace it with any of the following:
whole-grain cold cereal (such as Cheerios, Quaker Oat Squares, Kashi)
granola
whole-wheat waffle
whole-wheat or buckwheat pancakes
Any breads listed in the next section
Bread Replacements
The following breads can be used wherever bread is listed:
Whole-wheat bread
Ezekiel bread
rye bread
sourdough bread
whole-wheat English muffin
whole-wheat pita bread
whole-wheat bagel
whole-wheat tortilla
Grain Replacements
While bread and cereal are grains, I separated them due to when they are consumed in the day. Cereals are usually eaten at breakfast or as a snack, and bread is often used at lunch to make sandwiches or as snacks. The grains here are typically eaten at dinner, but can be eaten any time of day when grains (breads and cereals included) are listed:
brown rice
whole-wheat pasta (small amount of marinara sauce)
1 cup quinoa
medium sweet potato
any of the beans listed in the next section
Bean Replacements
The following beans can be used wherever beans are listed or in place of any grains:
black beans
pinto beans
kidney beans
navy beans
lima beans
baked beans
lentils
garbanzo beans
Related Articles