The Reviews Are In On Pre JYM
The Reviews Are In On Pre JYM
It's a massive HIT!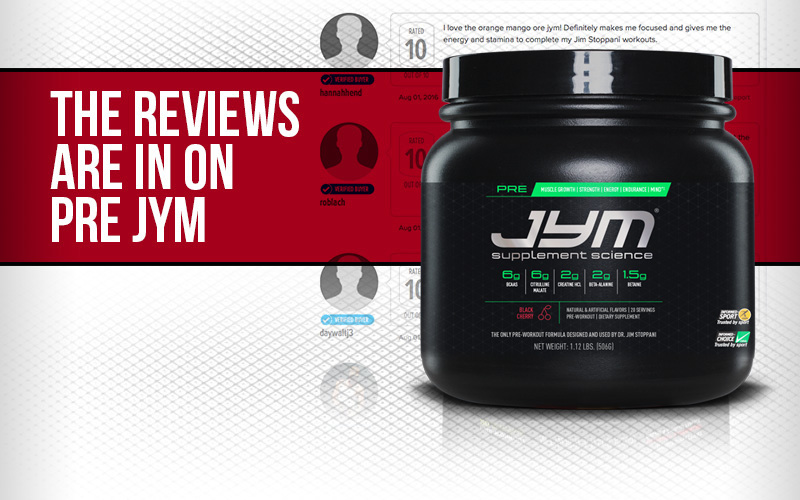 By now you guys likely have heard the news that I finally launched my own preworkout supplement Pre JYM.
For those of you who have purchased Pre JYM and tried it already, then you also know that this is not just a preworkout supplement, but is THE preworkout supplement. In other words, there is no other preworkout supplement on the market today that even comes close to Pre JYM.
How did I develop such a phenomenal preworkout product?
It was quite simple. At least for me. If you scroll through all the articles I have here on jimstoppani.com, you will see that the same ingredients in Pre JYM are the same ingredients that I have been recommending for years. And I included those ingredients in Pre JYM at the same doses that I have been recommending for years.
I actually got tired of mixing so many different supplements from so many different bottles every single day before I train.
Plus, the mixture of flavors tasted quite nasty. So I decided to make the perfect product for myself. When my friends and colleagues heard that I made a few batches of my own premixed preworkout product, they begged me for some. So I gradually made bigger and bigger batches. And anyone who was using it raved on and on about it. They loved the clean, steady energy that went on and on without a crash. They loved the insane muscle pumps. They couldn't believe their strength and endurance in the gym. And most importantly, they couldn't believe the results they saw after using the preworkout for several weeks and months.
My friends and colleagues finally convinced me to make this preworkout product available to everyone.
I was hesitant as I am not a business man and I really didn't want to sell supplements. But the more I thought about it the more I realized that not making this preworkout available to everyone and anyone who wanted it was doing a disservice to my fans that looked to me for the best advice on training, nutrition and supplements. After all, nothing on the market came even close to what I was recommending that you take before workouts. And I knew that many of you were just like me mixing your own concoction in your kitchen based on my recommendations. So I really did owe it to you to make this available.
Those of you who have been following my supplement advice probably knew what most of the ingredients in Pre JYM would be and the doses they would be in.
But for those of you who don't, you can simply click on the link below to read the label.
https://jimstoppani.com/retailer_link/pre-jym
But enough about how insanely good Pre JYM is from me.
The reviews from those who have bought it and tried it don't lie. After all, these are your peers. They have the same goals as you do and share similar lifestyles. So don't take it from me. Take it from the outpouring of feedback I have received from real Pre JYM users on Facebook, Twitter, and Bodybuidling.com. These are the reviews that will tell you the truth.
Facebook:
David Rios
This is incredible! The flavor is insanely phenomenal, the focus is great, and the pump was ridiculous. The energy lasted me throughout my work out and i still feel alive afterwards with no crash at all! You sir are a genius!( I want to drink this with every meal, the flavor is that delicious)
Josh Bowyer
Ordered it right away, received it early today! Tastes great and feels great! Been following your work as a student at UCONN for the past 2 years. Can't wait to see future products!!
Isis Pierce
Oh where do I begin.... Received my pre Jym and well...I released my inner beast today;) Thank you Dr. Stoppani! What an amazing mix! I was so excited to get on it and I just knew I would not be dissapointed. Leg day should be quite interesting tomorrow!!!
Bill Tyson
Dr. Stoppani, I'm not want to praise companies for their product, but I must tell you how amazing Pre Jym worked for me.
First off, I'm 47 years old, so it takes a bit more nowadays to get me going than when I was younger.
Pre Jym helped me blast through an hour and a half workout when before I'd be lucky to make it past an hour. The pump was amazing. I haven't had a pump like that since I was in my twenties.
Absolutely wonderful product. You've got a customer for life now for Pre Jym.
LuisandSusan Quezada
Jim, your product delivered as stated! The beta alanine kicked in and I new I was ready to throw up some serious weight! I had great focus and a killer chest pump from my chest workout today. Looking forward to tomorrow when I blast back bis! I knew that your product would not disappoint as it is all backed by science. The best part is this product also saves $$ too by including the creatineHCL and aminos, no need for extra products! Great job Jim! Now for the next release of JYM-PostWorkout.
Jason Temples
By far the best Pre workout supp I have ever taken made by one of my favorite athletes I follow Jim Stoppani!
Cosmin Nicolae
I took this 2 hours ago...still pumped and ready for more pain I'd give this "pre jym supplement" a 10 out of 10 for sure!
Andrew D Orwig
Took my first dose today. 45 min into my workout all that was on my mind was what is this magical potion! 90 min hit it hard still feel like I could go another 90min!!!
Anthony Guerra
I just finished day one of your 5, 3, 2 Strength program and it was my first day on Pre Jym while doing the chest workout and man I was on it the whole way through. Its the best tasting supplement I've ever tried and it has just the right amount of caffeine in it along with the rest of the ingredients. 10/10 on the scale!!!
Ellis James Lamb
I love you Jim. Seriously. I love this product. To all the people complaining about the cost... Look at it this way... Say you walked into your gym and as you checked in the hot blond behind the counter asked you 'what type of workout would you like today? The average is $1.00, the good is $2.00 and the amazing workout is $3.00' I'm pretty sure 9.9/10 people would buy the $3.00 amazing workout. Needless to say I would pay much more per serving to have a amazing workout, every workout.
Twitter:
Rob Lancsak (@RobLancsakBSP)
7/23/13, 12:22 PM
@JimStoppani Raspberry lemonade pre #JYM is delish! But the way it works is even better, thanx Doc!!
Kevin Cox (@KcCox8)
7/24/13, 5:33 PM
@JimStoppani Absolutely killed Week 3 day 3 Shortcut to Shred after taking #JYM for 1st time.Great product, never felt stronger. THANK YOU!
Robin Kempfer (@dslxic)
7/24/13, 5:33 PM
Started using @JimStoppani Pre #Jym 2nite. I like it; greater concentration, more energy,better focus,no crash.Need to work on price point!
Dan (@ThePunisher273)
7/24/13, 4:27 PM
#prejym by @JimStoppani is the real deal! I've always had issues getting a good pump...this took care of that!!
Morgan (@_AQUIN0)
7/24/13, 2:55 PM
Just took some Pre #JYM 10 minutes ago and wow I feel the mental focus 😳🙏 can't wait to workout! 😁 @JimStoppani
Kevin Bettencourt (@SwoleBRO_KEV)
7/24/13, 9:23 AM
My PreJYM by @JimStoppani came in today. Great focus and insane pump, as always Stoppani delivers.
Nathan Cortez (@nathanthepan)
7/25/13, 12:23 AM
@JimStoppani your pre workout is an amazing product. I love it. #jym
Pete Stombaugh (@monkeywrench_79)
7/25/13, 2:43 AM
@JimStoppani Just killed my workout! Best pump I can remember! Thanks Doc!! #Shortcut2Size pic.twitter.com/OzZAUQuUN3
Curtis Gonzalez (@curgonz)
7/25/13, 1:42 PM
Great focus and pump minus the jittery feeling, thanks for a solid product @JimStoppani #respect
Timothy Farren (@MrFarren)
7/25/13, 2:35 PM
3 words: #Jym Raspberry Lemonade. Absolutely amazing. @JimStoppani is genius.
Travis Dougherty (@dougherty_t)
7/25/13, 4:08 PM
@JimStoppani you are amazing! Had the #JYM for the first time today and havnt had an arm workout like today in a while. Def my new fav
Derrick Worden (@_dirty30_)
7/29/13, 2:51 PM
@JimStoppani Pre #Jym is the real deal! PR'd in everything and then killed my sprint workout.
Larry Gleba (@gleba_larry)
7/31/13, 10:59 AM
@JimStoppani @IndyTQ lets just say Assault is like driving a smart car, #PreJYM is like driving a Lambo #bestofthebest
Chase (@BeastMode804)
7/27/13, 12:58 PM
@JimStoppani 4 days into #jym I've smashed prs on all heavy lifts. Biggest thing I've noticed though is how good an hour in.. Loving it
BB.com
Kylesayre
The best pre-workout I have used thus far. I've used Assault, C4, Bullnox, etc. all of these do not measure up to what Pre Jym has given me when I workout. I get a sustained boost of energy throughout my entire workout. I'm now able to do HIIT after my lifting sessions, I never had the focus or the energy to complete a post lifting HIIT session before I started using this. Can't wait for your post workout product Doc!!
IVAN0804
By far the best per-workout I've taken. TASTE: I've taken several preworkouts that promise a certain taste and get something totally different. I bought the cherry limeade given the fact that I love the regular drinks with the flavor and this one hit the mark! EFFECTS: I'm always cautious when it comes to buying products and do lots of research and for the first time I went blind at it knowing that all the research had been done. I must say what was promised was definitely delivered. The first couple of times I tried it I added the recommended water and waited about 40 mins to start my workout and I peaked too soon. Finally I decided to lower the water to 12oz, and waited only 20 mins, and it worked like a charm. On leg day I usually start wearing out somewhere halfway through and just finish the workout on fumes. Not this time, I was able to throw my max squat weight up for five more reps on each set with ease. Now I gotta find a new max! Not only that but I was able to throw in hack squats and split squats with ease. I can only imagine what it will do for me after a full month... All I can say is thanx Dr. Stopanni, you are truly a fitness genius!!!
eriktelish
JYM is a must have product, essential for anyone looking to get real results. It has just the right ingredients at just the right doses. whether your looking for endurance, strength or just straight power. This product is guaranteed to deliver. The price is right and it tastes great. THE BEST PRODUCT ON THE MARKET!!!
BMarz
I won't bore you guys with a review that says the same thing as all other reviews, just worded differently. Just buy a tub of Pre Jym. You'll thank me as soon as you take your first sip... ...you're welcome.
Chris U
Let me start by saying that I love pre-workout supplements. I train at least five days per week, and I use a pre-workout at least five days per week. I love to cycle products on the fly. My most recent pre-workout rotation has been ON Platinum Pre-, Riot, and Scream. Last week was my first day with Pre JYM, and it was a glorious day indeed. I had shoulders and biceps on tap, and I absolutely smoked them. I downed a delicious serving of Pre JYM, raz lemonade, roughly 30 minutes before my training session. First, the paresthesia hit. My skin started to tingle, and thenâ€"swear to the godsâ€"my vision blurred a wee bit. At that point, I knew I was in for a kick in the ***. Hot ****, was I excited! I watched a little CT Fletcher and started getting really stoked to smash some iron. My nutrition was off that day, but Pre JYM refilled my depleted energy in no time. I started the workout with strict military presses, and my delts got warm and pumped much faster than usual. I superset the military presses with barbell biceps curls, and my arms were hit by a solid rush of blood after one high-rep warm-up set. I've gotta attribute that to the massive, six-gram dose of citrulline and the added helping of beet extract. I felt beastly. I wrapped that superset and moved to a superset of lateral raises and hammer curls. During my third set of hammer curls, I realized my usual 30-pound dumbbells felt ludicrously light. I bumped the weights upâ€"on my fourth superset at this pointâ€"to 40 pounds and devoured eight reps. It was spectacular. The rest of the workout flew by. After two more superset pairs, four sets of each, I had enough gas left in the tank to race through four sets of 225-pound Smith machine shrugs. I left the gym with the closest thing to thick traps and cannonball delts I'll ever build. In short, Pre JYM kicked my butt in the best way possible. I loved it. Sure, I was already amped to try the stuff, but I can honestly say that Pre JYM boosted my strength, annihilated my usual late-workout fatigue, increased my muscular endurance, amped my energy, helped me achieve a stupid pump, and pushed me to manhandle some burly-*** weights.
RIOS
Great product, mixability is great, flavor is awesome and the energy lasts through out the day with no crash. Although its costly, if you have disposable money then you should definitely buy this. Cherry Lemonade is delicious
Yoniinfante
excellent product Dr. insane pump worth every penny...thanks
Joesoldo
Tried Pre Jym for first time this AM before my wo and the taste is great. I wo at 5AM because that is the only time I have because I work 12 hours a day and the gym at night is like a club with 150 dudes in there and you can't get anything done especially at any type of good pace. I only have about 50 minutes in the AM to get through my wo. It is a very strong pre-wo just like Doc says. I took the whole scoop and three hours later I was still geeked, there is a lot of caffeine 300 mlg. But during my wo I had plenty of energy and it was clean no jitters. The pump was nice also. Overall it was very good and it has everything you need in it so you can cut out other separate supps like Creatine, Beta-Alanine and so on. I recommend it.
Jimmyqaqish
Can't knock on a single thing with this product, its like the best feature of every pwo I've ever taken put together into one, taste is amazing (not that taste for anything other than protein should matter), pump was best I've ever had, full 1.5h workout worth of energy and surprisingly no crash! Not sure why people are compaining about price, first of all this product contains hcl instead of mono. And it has a full serving of BCAAs!! If you consider how much it saves you from not having to supplement those 2 essential ingredientss, ( 50c for hcl and 1$ bcaa) this stuff is the best bargain there is at a quarter a serving!!
Mamba1013
First off the raspberry lemonade is delicious. It tastes similar to ON platinum pre. The only thing preventing me from rating it a 10 would be the price. I know it's quality ingredients and all. It's just at $1.75 a serving it can really hit you in the pocket. Otherwise a perfect product.
Slinkey34
Best and most complete pre workout on the market. Dr. Stoppani is a genius. If you're not ordering this in the next 30 seconds you are missing out. Raspberry Lemonade flavor tastes just like lemonade.
Driftmunkey
Thumbs up on the Pre-Jym Cherry Limeade. It tasted similar to MP Amino1 cherry limemade but a little more tart. I like it and went down smooth. Mixed well and didn't have left over grit at the bottom like some prework outs drinks do. About 20-25 mins after drinking it I did feel the energy come on clean. The main indicator was my face felt hot and I knew it was going to be a good visit to the gym. I regularly take 1MR, Craze, and Hyperfx and have become tolerant of stimulants lately. Today's work out reminded me of the first time I ever used a Prework out drink. The pump in the gym from Pre-Jym was intense. I was lifting heavier, and didn't feel like my lifts tapered off as they usually do during the SS8 workouts. Great product!
ButterflyDragon
First off, I'm 47, so m workouts are not what they used to be when I was younger. With that being said, I want to say that Pre Jym provided a pump like nothing I've felt since in my 20's. Secondly, it has allowed me to workout with more intensity and for a longer period of time. I'm amazed at this product. Seriously. I'm not want to offer cheap praise for any old thing I buy. But knowing Dr. Stoppani formulated this is what allowed me to even try it. I trust his advice and took a gamble. And that gamble was like hitting the jackpot. I haven't tried the cherry (not a cherry fan), but the raspberry lemonade tastes great.
Bmbrooks20
As expected, Pre-Jym delivers! All the proper ingredients in one bottle! No more checking to ensure you're getting all the necessary supps! Plenty of energy, pump, and endurance. One of the better tasting pre-workouts you will find. It's backed by real science, with real ingredients, and as always there will be unreal results.... So where's the argument?!
RoamingStorm
The flavor is a little strong in a full dose. I mix with a full shaker of water, and end up adding extra water about 3/4 the way through. 5 minutes after taking my first few sips, I felt the strength of my heat beat increase and started to get that tingle. I could feel the muscles in my legs start to pulse in time with my heart beat letting me know the vasodilators were taking effect. After finishing the full dose and getting to the gym I felt more focused and had more energy. I was able to crush my workout with focus and energy I haven't had before.
JRockHampton
Best Pre-Workout ever!!!
JohnHardesty
Today I was drained from work. Burned all my adrenaline dealing with projects and emails. I got into the office at 8 am and after 10 hours of work I went home ready for a break. When I got home I decided to rest up for a bit before the gym. Needless to say after that hour of rest I need something to pick me up and get me charged. So I took a scoop of JYM. Two hours later I sit here in the sauna sweating with pride of a job well done. What a lift! It started off a little slow for me but grew with each exercise. The more I worked out, the more focused I got. I never felt sick or uneasy. Never jittery either (but I do have a high tolerance for caffeine). The taste was great. It mixed perfectly. And I got an insane pump. I even threw 25 minutes of HIIT cardio onto the end of my workout! Which I've been skipping for the last month. I'd highly recommended this preworkout to anyone looking for their workout!
Quesada
This product delivers everything it claims. Great mental focus and pump. You will push harder and longer. Best thing was no crash like other overstimulated products. Definitely would recommend and the taste is awesome (raspberry lemonade.) Mixes well and smoothe no grittiness.
Hotshot1254
This product rocks! Finally a preworkout without all that shady labeling. It has all the ingredients listed out in study-backed doses. Makes me feel like the top of the food chain at the gym....great pump, great energy, and no crash! I love it and would recommend it to anyone!
Arsenal08151988
Good clean energy...no crash or jittery feeling.
Imgleba210
I've tried just about every PRE out there and this by far rates as one of the best. Tastes amazing!! Wish it had more servings given the price but you also get what you pay for in this case it's definitely quality over quantity.
Bsp16
I purchased the Raspberry Lemonade pre JYM and wow, so tasty. Doesn't taste like other pre-workout supps I've tried, it actually tastes good! It also mixes easily. About 15 minutes after drinking it I started to feel focused and ready to hit the gym. When I did the muscle pump and strength I had was unreal. This product is phenomenal, from the taste to the effectiveness. I highly recommend pre JYM!!
MrCharles12
After years of working out and trying different pre workouts, i can finally say THIS is the show stopper of em all. The taste of the product is hands down one of the easiest to get down as well. As far as use within 10 minutes my body was showing signs of just a gradual increase in energy and overall pump without even touching the weights yet. I walk in the gym to do shoulders short on time (Which is unusual but life happens) And even within that hour of time i managed to completely SMASH my routine with some of the best focus and constant energy like i have never had before..And this was all helping keep my mind off the stuff i was stressing out about before hand which in itself makes the product worth it, to be able to pair pump and focus effectively to turn even a sub par workout (We all have em time to time) into something that left me saying "Dam it ended more intense then i thought". I cant wait to get my usual time i get to train with this and really put it to its limits. This being said my experince with it thus far has powered me through tight time frame lifts with great focus, pump, and want for more. The mind muscle connection with this product is off the charts. I was recently taking MP's Assualt (the INTENSE workout dose) and even the 23g dose doesnt even scratch the surface of this. Also most pre workouts either give me headaches like none other or just simply keep my focus way off. Doc Jim you have done it again. Supplement companies best be on watch now, because you've talked the talk, and sure as hell are walking the walk. All the fakers out there need to go back to the drawing board. Also i seen some pricing concerns, and i looked up PER dose and we all know we take the max dose allocated by the products label and surprisingly the dose is very competitive with "top brand" pre workouts if not cheapers WITH 10x's better effect. So if price is an issue for people factor in your per dose/ Servings per container and you'll see that for the same price your lucky to get 15 workouts out of a 30-40 dollar bottle of LOWER POTENCY product Vs. The 20 finely tuned and passion filled Pre Jym. If people say anything negative about this I will be very shocked because lets face it. The market has nothing with this kind of work put into it, or the reputation that has been put on the line to prove it. Period.
ThePunisher273
Always had issues obtaining that insanely sought after PUMP.... Not anymore! I've in the past have also had issues with anxiety and pre-workouts, no problem with JYM thus far... I can't praise this enough! oh and the flavor was BUENO!
Burk3y
Dr Stoppani and his team really came through on this one! Great product, awesome taste and elite results. I'm really pleased with my "Jym" pre workout, I am really looking forward to any and all other supplements Dr. Stoppani and his team put together!!! As the Doc says... "Real science combined with real training produces unreal results" the Doc lives up to what he preaches with this supplement!! Huge thanks goes out to the Stoppani team for an elite prework that we all can enjoy in the "Jym" Eat Clean, Train Dirty! FarFrumNormal_1
Lightwave000
So I am finishing up week 6 of Jim Stoppani's Shortcut to Shred and seeing results that boggle my mind. Low carbing saps your energy and I was anxious to see if PRE-JYM was a pre-workout that actually produces energy and all the while lets me know what is actually in it. Day 3 on PRE-JYM (Cherry Limeade)- and my performance has shot through the roof. I have never really had creatine so im noticing strength gains while low carbing! The energy is smooth and doesn't crash. I believe in Jim Stoppani's research, his diet plans, and i plan to continue cycling his workouts. Its nice to know someone honest in the industry who isnt on roids and practices what they preach. This guy knows his stuff and this product is not blowing smoke. Lastly two things- The taste is amazing! And I forgot what an insane pump felt like. It seems like most everything i have tried lately does not give me a pump. The last time I had a preworkout that worked this well, it was SuperPump 250 (no longer produced) and i had no clue what was in that stuff. He hit it out of the park on this one and you will not be disappointed. Buy it before this first batch sells out!
Mgga_36
This is a great preworkout. I'm always tired by the time I get to the gym and this product gave me a great amount of energy to destroy my workout. I really like the fact that I didn't feel jitters and I didn't have a crash after taking it. The mental focus is insane, I was able to really focus and visualize my muscles squeeze every rep. The pump was great! I felt pumped from the beginning of my workout until the end. Overall the Doc! Dr. Jim Stoppani put an amazing product that doesn't disappoint!
Surfinhb03
Surprisingly good taste compared to most pre-workouts. Great focus during the workout and great pump to go along with it. My new pre-workout from here on out, great product!
AndrewOrwig81
I'm posting this review after my first dose of Pre-Jym. First off hands down best tasting pre-Workout I've ever taken. 25 min. After taking it I could start to feel it kick in. Good pump felt jacked up w.out any jitters. Did a 90min workout, after 45min still felt focused full of energy. Got done working-out I felt like I could go for another 90min. I've taken MP assault, Jakd3D, C4, shock therapy, you name it I've probably ran a cycle of it. Pre-Jym gave me a better work-out than any other pre-workout I've tried. I know I've only taken one scoop so far, but the first dose is usually a good indication on how the product will work. (at least during ur workout) I'm going to post another review in a month on how pre-Jym affected my body
Nimsoc
Hands down this is the best pre-workout supplement that I've ever took. First of all it works! second...it has the perfect mix of ingredients to give me lots of energy and a massive pump in the gym. Not surprised since the "maker" of this magic powder is Dr. Jim Stoppani.
Adventin
This product is great. Only uses one scoop to deliver all the essentials that other products deliver in three scoops. Flavor is good and the powder mixes well in water. No clumping. Energy from Jym comes at a nice steady pace and does not deliver a crash afterwards. After a grueling set, I found I recovered faster and could push out a few more reps. That makes all the difference.
Hug_dog
I love Jim Stoppani's workouts. I just finished week 7 of his short cut to size. Great stuff. I have been mixing 4 different products to get everything he suggests to take before and during the workout. I was super excited for this product. I received it on Wednesday and today was the first time I used it. I took it about 20 minutes before I started to work out. By the time I was on my second set of overhead press I was ready to take on the world. I had great focus, endurance, and energy through the whole workout. I finished in 55 minutes and had similar energy at the end of the workout as I did at the beginning. I could have continued to workout for another 30 with the same pump and motivation. I have only taken No Xplode before and it is similar besides I know I am getting much more and this gave me more energy but a similar pump and I know exactly what is in it. the only reason it didn't get a 10 was because of the price. If it was the same price for 30 servings I would have given it a 10. Thanks Jym.
Andrew7466
I'm a huge fan of the doc so when I found out about his pre workout I waited long for it to come out. Short and simple this pre workout was amazing. It gives you the correct dosage of everything you need to maximize your workout, no tingling, no jiters. It was a high rep chest/triceps day for me and I found myself doing heavier weight and pumping through it easy. I even added a few more lifts to my usual workout because i finished so much quicker and still had energy to go on. I love it the only flaw i see was its price, its a little too much for only 20 servings though the price is because of what you are getting in this pre workout I understand that. Amazing product, give it a try and see if you are okay with the price.
Josh004
Best Pre Workout there is. It looks expensive, but when you see everything that is in it and hit the gym with it you will see that the price is right. It contains exactly everything you need in a pre workout with the precise dosing of each ingredient which is all on the label for you so there is no need for guessing how much of what is in the product. This is an awesome product and I highly recommend it.
Isis913
This is hands down, the BEST pre-workout I have ever taken. I take it 30 minutes before my workout and that's all I need to help me power through every rep. Pretty intense, without the "scary" feeling that some pre-workouts can give you. This is just the perfect accompaniment to any workout! By the way, I also used it before my intervals class and it was just amazing! So it truly is perfect for ANY workout! Delicious too!
Mxracer79
Hands down the best pre-workout supplement I've ever used!! The energy is great, the pump is amazing, and the gains are almost instant. Dr. Jim gave us the formula for the perfect pre-workout supp with this one!
NelsonDW
This stuff is the real deal! I've used BSN N.O. Explode and MP Assault and Pre Jym blow them out of the water. The Cherry Limeade flavor tastes great and I've experienced no negative side effects. Dr Stoppani is a genius not only through his incredibly successful workout programs like Shortcut To Size and Shortcut To Shred(I've personally have seen phenomenal results from these), but this pre-workout mix is incredible. It's refreshing to know someone like him cares about what exact dosages and effective ingredients go into a product like this. There is nothing to hide unlike so many others out there with their "proprietary blend" garbage. Great product!! Keep up the great work, Doc!!
Thirdeye11
Having completed Shortcut to Size and now on Shortcut to Shred, I've only recently started using supplements. I've been dosing with Optimum Nutrition's Beta Alanine before my workout (1.6g) and getting lots of itches and scratchiness. Read from Dr. Stoppani that this is due to lower quality Beta Alanine so I was curious if this pre-workout did the same. I can assure you that even with a higher dose at 2g Beta Alanine, I experienced no scratchiness or nerve tingling. The caffeine and other ingredients have been keeping me alert and focused like none other. Cardio acceleration seems easier and I never knew what people meant when they said something gave them a "pump" but when I did biceps yesterday, I finally got it. My biceps were tight and strong when I was doing curls, and I can only attribute this to Pre JYM. I feel awesome and I'm certain this product will continue to be in my regular rotation. Oh, and while the product doesn't taste EXCELLENT, it does taste VERY GOOD for a preworkout supplement. I would venture to say though that the palate linger is actually really nice! This is more important to me than the actual taste because it will stick with you. The addition of lime in the cherry flavor was an important one. Nice work Doc! Real doses with real science behind it, and no need to hide anything with any "proprietary" blend. The only bad thing here is that someone else can imitate it. I just hope no one tries to copy what Dr. Stoppani has done and he can continue to keep up his brand name.
TSANTORO
have been a long time fan of Jim Stoppani and his workouts. I consider him the authority on fitness and nutrition. I was really happy to see this product come along especially since it includes the specific ingredients he recommends for pre-workout but conveniently put together, at a good price point. I've used Pre Jym for the last two days now. I found more endurance during my workouts. I found my strength and energy levels stayed pretty steady throughout and I wasn't as fatigued as normal during my final sets. Finally the taste is great. It is not overly sweet like some. It taste more like a soft drink as opposed to a workout supplement. I will defiantly be buying more. Can't wait for the post workout product.
Kbasema
I've tried numerous quality pre-workout products and Pre-JYM tops them all. I was thrilled when I received my order earlier this week. I've been doing the Doc's Shortcut to Shred workout, I'm actually on my second time though it, and felt like I was starting to hit a wall. I couldn't get through my workouts with the same intensity I had before. Pre-JYM changed all that! I've killed it each time since using this product. The focus and pump is fantastic. I can hammer through my workout at full throttle right down to the last rep. There are no negative side effects, no jitters, stomach issues or difficulty sleeping. Doc you nailed it! Can't wait to see what you come up with next.
JFC1981
I just received this JYM raspberry lemonade this Thursday and I finally tried it this morning and my workout was awesome very intense and very focused awesome pump as well. I usually do 2.5 hrs of workouts an I slow down towards end but this stuff I lasted the whole time and then some I would recommend it to anyone I want to try the cherry one.
Code3gt
The taste is awesome. If you like hotbdog on a sticks cherry lemonade you will love the cherry limeade. Three workouts in so far and focus is similar to Dmaa1, 3. WITHOUT the crash. Pumps are solid and vascularity and endurance are top notch. I hate proprietory blends and Doc Jim puts his on the label. No fear.
Halla9
The Doc has done it again! I've tried many pre-workout products and as soon as I heard about Pre JYM I was more than excited to check it out. First of all, the taste of the product is great. More importantly it is hands down the best pre-workout supplement I have every used. If you are looking to buy this product you can expect nothing but clean, long lasting energy, and absolutely no crash. After using Pre JYM for a week my strength and over all satisfaction with my workouts has skyrocketed. It may seem pricey but if you were to buy all of the supplements in Pre JYM separately you would realize that this product comes at an awesome price. Finally a product with all the ingredients you need for a great workout! Thanks Doc!
Bherman21
This is hands down the best PWO I have ever used. Dr. Stoppani has precisely engineered this product to provide exactly what you need, in the most optimal amounts. Within 30 minutes of taking, I can feel the clean energy and focus, which not only lasts me through the most intense workouts, but well into the rest of my day, without the negative effects of a "crash". And the pumps are beyond anything I have experienced before! The product is well worth it's price point. And the flavor is absolutely amazing! Well done, Jim! Can't wait to see what else you bring to the market!
Gemini45
excellent pre -workout! tastes great and gives a good boost for me, no jitters like some others . Thanks!
SanDanV
Great energy without the jitters. Was strong and focused. Had so much energy after the first use when I got home I cleaned out my garage.
BenRoss88
The best pre-workout supplement I have ever used. This product comes as advertised. I have followed Dr. Jim Stoppani for a couple of years now and I trust his research and I know that I am using something that he has used and tested himself.
Related Articles